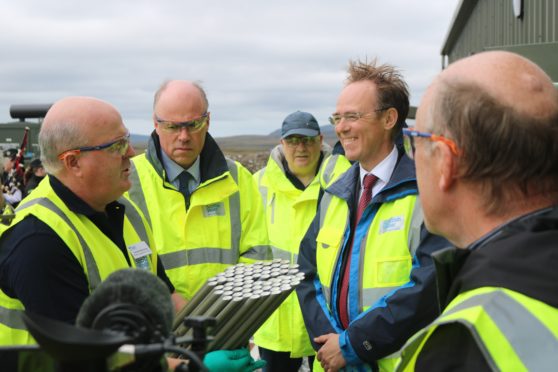 A £15million water treatment works in the Western Isles was officially opened yesterday by local MSP Alasdair Allan.
The Scottish Water development at Lochmaddy aims to provide a single improved water supply for communities across North Uist and Berneray.
The project, which was delivered in partnership with Ross-shire Engineering, recently gained national recognition at the Water Industry Awards 2019 for its use of an innovative construction technique.
The whole plant was built and tested under factory conditions in Muir of Ord before being broken down into 16 modules.
These were delivered and re-assembled last year on a site which had been carefully prepared for their arrival by locally-based civil engineering contractor MacInnes Brothers.
Lochmaddy is the largest Water Treatment Works that has been built in this way anywhere in the UK to date.
Sgoil Lionacleit Pipe Band kicked off the celebration of the project's completion by piping guests from a new intake that has been built on the shore of Loch Fada to the new WTW above Blathaisbhal.
Dr Alasdair Allan MSP said: "It's great to mark the completion of this important investment for the future water supply that will serve communities across North Uist and Berneray for years to come.
"The project is a great success story for Scottish Water's supply chain here in the Highlands and Islands.
"From MacInnes Brothers' work on site to Ross-shire Engineering's factory and the specialised transport firms who helped the water treatment works make its 128 mile journey by road and ferry last summer, each part of the delivery process has been critical to the success of the others.
"With the national recognition that has been achieved, it's clear that this approach which was developed for North Uist has potential application much more widely across Scotland and beyond."
Scottish Water chief executive Douglas Millican added: "The whole Lochmaddy project team has more than risen to the challenges and the result is plain to see.
"We have a first class new Water Treatment Works which is regarded as an example by others from across the UK and beyond.  The construction of the new works has been undertaken well, and with minimal impact on the local community."