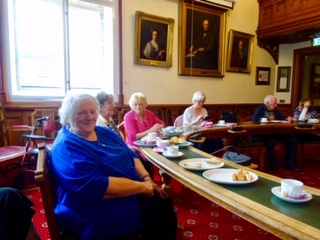 An Inverness councillor, who is no stranger to hosting charity tea parties, has gone the extra mile to invite members of two Contact the Elderly groups for afternoon tea in the city's town house.
Isabelle MacKenzie, who usually organises the parties in her own home, invited the two Inverness-based groups to her second home – the eloquent Inverness Town House – before hosting an afternoon tea session and a tour of the Victorian building, which recently underwent a £4million renovation.
Cllr MacKenzie has been supporting the charity, which combats loneliness among older people through free monthly tea parties, for the past ten years, adding that she was thrilled to combine her roles and to showcase the restoration.
She said: "I was delighted to host the Contact the Elderly guests and give them a tour.
"It is an honour and privilege to show folk around. The Town House is such a special building and we all had a wonderful afternoon."
Contact the Elderly works to alleviate social isolation among the older generation and has 140 groups across Scotland, including in Inverness and the Highlands.
They meet one Sunday a month for a couple of hours of tea, company and conversation. Guests, who are normally over 75 and living alone, are collected by volunteer drivers who take them to and from the gatherings which are usually held in a local host's home.