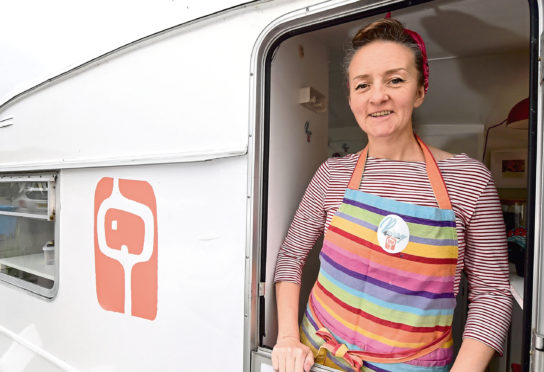 Would you cut out meat and dairy to save the planet?
This concept might have appeared far-fetched even a decade ago, associated with an alternative "hippy" lifestyle. But veganism has gone mainstream, with a vegan selection readily available in many supermarkets and restaurants.
No longer linked to a limited diet of lentils and lettuce, even those who would normally eat meat are opting to try tasty alternatives.
Veganism involves cutting out all animal products such as meat, fish, dairy and eggs – and some drinks, including wine, can be off limits too.
Animal products can be found in a surprising amount of foods, from animal tissue used in baked goods to anchovies in salad dressing.
Embracing a vegan lifestyle completely also means committing to only using or buying cosmetics and clothes free from animal products.
All this may sound extreme, but 3.5 million British people identify as vegan, and studies show if we cut back on meat consumption, it would help to reduce our greenhouse gas emissions, albeit there are many other factors also contributing to climate change.
But alongside the positives of switching to a vegan diet, there is an undercurrent of hostility between vegan protestors and the agricultural industry.
Although many vegan protests are peaceful, some farmers have faced verbal abuse and even received death threats.
your life spoke to businesses who have benefited from the vegan boom, people who live by a vegan diet, and the agricultural industry to find out more.
Mum-of-two Freya Jarnes has been a committed vegan for several years, and chose to raise her children on a vegan diet from birth.
The teacher, who lives in Inverness, has been accused of forcing her values on her family, but has stood firm in her decision.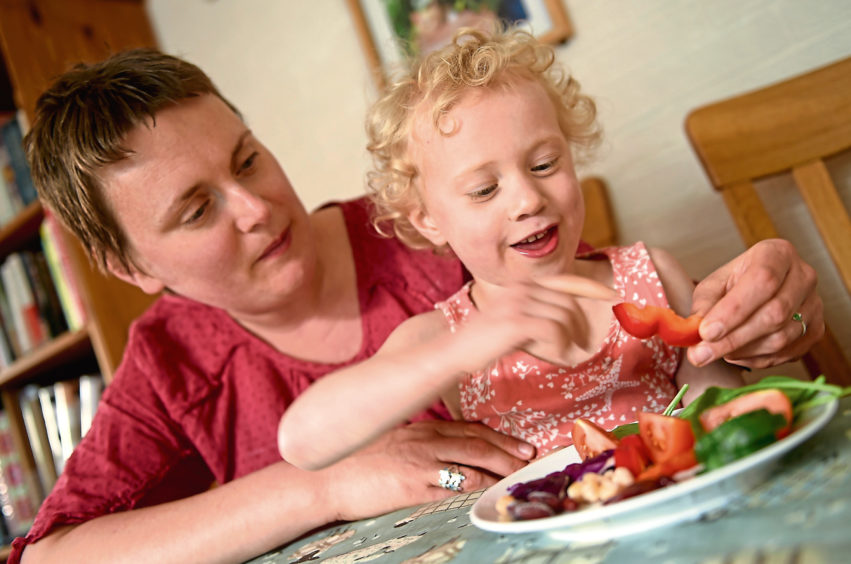 "I think if people want to eat meat then that's fine, but everyone should be fully educated about where meat comes from first – not just eating it because it's normal or we feel we should," said Freya.
"I did a substantial amount of research to ensure I was making the right choice and would be getting the right nutrients when I was pregnant and then breastfeeding."
Emma, four, and two-year-old Soren, both eat a vegan diet.
"Until my children are at an age to understand where meat comes from, I don't want them to eat anything which has caused harm to anything else, or caused any animal to suffer," said Freya.
"I want them to know they didn't contribute to any animals suffering.
"After they were weaned off breast milk, I introduced foods which had high nutritional value. It's mostly veggies, fruit and beans all mushed up and pureed.
"Emma is very aware of her diet and always asks before eating anything if it is vegan.
"She says: 'Animals are my friends and I don't eat my friends.' In supermarkets, if we ever walk up the meat aisle, she loudly asks: 'Mum, why do people eat dead animals?' which is embarrassing sometimes.
"But she's just saying the truth. Four-year-olds have no filter.
"I message parents before they go to anyone else's house and mention that Emma is vegan.
"I always offer to bring my own snacks for her as I know some people might not know what to buy, but so far, all the parents I've met have been so accommodating."
Freya believes Inverness is still behind when it comes to attitudes towards veganism, with limited choices for eating out.
"So far, I've only met one other mother in Inverness who also has vegan children of about the same age," added Freya, who moved to Inverness one year ago.
"Some people say that I'm not giving my children a choice and that I'm forcing my values on them.
"My response is: 'Aren't you doing the same thing? You're forcing meat on them.' They can't choose not to eat it.
"I'm not stopping my children from having fun or excluding them from anything. But no matter what you do as a parent, someone will criticise you."
For Joni Phippin, times are changing in the Highlands, and she recently organised the first vegan street food market in Inverness.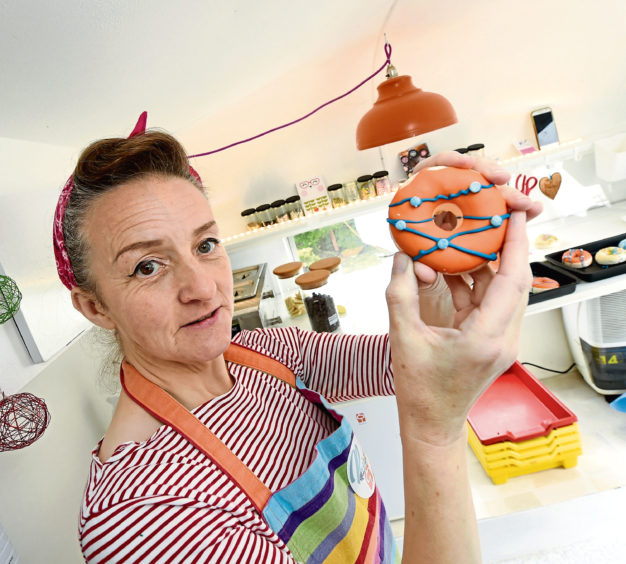 She is preparing to launch a website for her business, Prissy Queen of Desserts, and will also be sending orders by post.
Joni, who lives in Fortrose, sells mallownuts, which look like doughnuts and are made by hand. She also produces teafakes – the vegan alternative to teacakes.
"I was working with young people and it was hard to get them work experience," explained Joni. "I had a caravan and previous fast-food skills, so I decided to set up a bubble waffle van for events, where I could provide some work experience.
"At every event, we had people looking for foods that met their dietary needs.
"It seemed the best option was to create something inclusive.
"I didn't feel comfortable selling mallow when I didn't eat it myself, so the quest for veggie mallow began.
"I love a challenge, so I took to the internet and tried every variation I found. Doughnuts were going through a revival and I was inspired by how far people were taking them."
Joni assumed that mallownuts would remain a hobby, and has been shocked by their popularity.
"It seemed way too niche to be a major success, especially in the Highlands," she said.
"That makes me laugh looking back, as my issue now is knowing how to meet demand!
"For many people, the word vegan conjures up images of lentils, hippies and either raw veg or over-cooked, bland stews.
"That couldn't be further from the truth now.
"Fear for the planet and growing knowledge about the intelligence of animals has made many people take a harder look at the impact their lifestyle is having, most definitely amongst young people.
"Even if they are not vegan themselves, they don't judge anyone who is.
"I'm vegan because I believe animals are here with us, not for us."
Fellow business owners Dave and Fiona Campbell have also benefited from the demand for vegan alternatives, and launched a pie-making venture earlier this year from their home in Fochabers.
Aptly named The Vegan Skinhead to reflect Dave's appearance, they regularly sell out of their vegan "pork" pies at events across the north and north-east.
"We've been vegan for eight years and were previously vegetarian," explained Fiona.
"Dave does all the pie-making using a traditional hot water crust pastry method, with a substitute for lard. We use seitan as a pork alternative and season it, alongside a vegan jelly.
"A huge demographic buys from us.
"Butchers have even wandered over at events and admitted that our pies taste good. It's only the minority who are hostile.
"I think butchers have been forced to look at alternatives, as they are realising the environmental impact of meat.
"In the '80s, people thought vegans knitted their own jumpers from porridge, and were these thin, unhappy people. Now we can sell out in just over an hour.
"We even have a steak which bleeds when you cut into it – it's made using beetroot and seitan.
"It's very popular. We're just trying to keep up with orders now."
James Foad is also experiencing a busy time with work, as his farm in Huntly is in the middle of harvest. Alongside arable farming, James raises fat lambs for market, and offers secluded glamping experiences.
He also does farm tours, and believes misinformation is damaging the reputation of the industry.
"If you don't want to eat meat, that's your choice," he said. "But there's misinformation concerning our treatment of animals, and the impact of the industry on the environment.
"Scottish farmers farm in an incredibly sustainable way across diverse countryside, and we have some of the highest animal welfare standards in the world.
"Vegan activist websites often contain information on welfare standards in other countries, and I don't think you should be making a decision to go vegan based on that alone.
"Farmers are getting a lot of abuse just now. I know of cases in England where dairy farmers have been threatened.
"We're scared to put our head above the parapet, when we should be telling everyone about the care, attention and dedication that goes into our work.
"We need to sing the industry's praises, but we're staying silent for fear of backlash.
"That's what I try to do when people come to stay, I offer farm tours.
"I find that vegans have often made their choice with no understanding of the thought and care involved in rearing livestock.
"If they visited at lambing time, they might realise our passion."
ASK THE EXPERT
Harriet Young lectures in dietetics at the Robert Gordon University School of Health Sciences.
"From a nutritional health perspective, following a vegan diet does not always automatically result in weight loss or a healthier diet – doughnuts, chips, many biscuits, crisps and sweet desserts can be found on a vegan menu.
"Vegan diets do not automatically mean more sustainable and environmentally friendly either.
"Eating fruits and vegetables out of season and air-freighted products can have a significant impact and may mitigate any environmental benefits.
"The majority of the population would benefit from eating more plant-based products and less animal products, but this does not ultimately require you to follow a vegan diet in order to do so.
"Adopting a flexitarian approach may provide a more realistic and balanced diet for many people.
"Vegan diets, like any diet, have the potential to become damaging when large food groups are removed from the diet without appropriate substitution or planning.
"In particular, vegans are at higher risk of nutrient deficiency, such as vitamin B12, calcium, vitamin D, omega-3, selenium and iron.
"This can lead to problems such as anaemia and osteoporosis in the longer term. But with careful planning and advice from reliable sources, these can be overcome.
"Beans, pulses, lentils, seeds and chickpeas are all good sources of alternative protein.
"There is also a range of meat-free alternatives now on the supermarket shelves. However, people should be mindful as many can have high salt content."