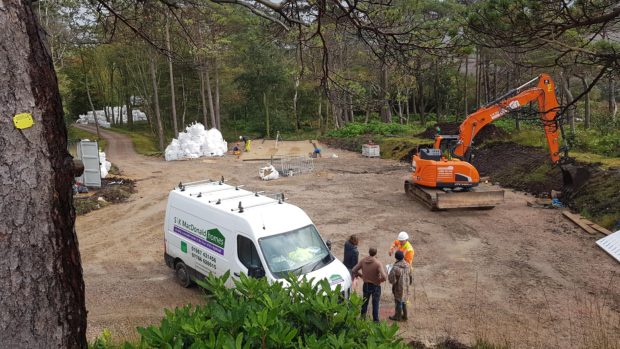 Four new eco-homes are being built on the Isle of Rum in an attempt to reverse population decline.
The Isle of Rum Community Trust (IRCT) believes the £830,000 project is a way of protecting the future of the island school, which currently only has two pupils.
It is hoped the properties will encourage new people to move to Rum, and the trust is looking to attract families and skilled tradespeople and businesses to make the community more viable.
The project to build four larch-clad, two-bedroom houses in a small cluster at the edge of Kinloch village is now under way.
The homes, which have solar roof panels, high levels of insulation and a wood stove for additional heating, will be completed in early spring.
IRCT has had ownership of the land and assets in and around Kinloch village since 2010 when they were transferred from Scottish Natural Heritage.
Lesley Watt, mother of two young children and long-term resident of Rum, said: "Rum has a population of around 32 people, including six children. Our primary school now has only two pupils in P6 and 7, with one child in nursery.  We need more families to fill the small school and maintain employment of the two excellent, school staff."
The trust also has several potential shared-equity plots available for those willing to build their own home.
The project is being supported by the Scottish Government's Rural and Islands Housing Fund, who awarded £454,000 towards it.
Housing Minister Kevin Stewart said: "These four new energy efficient homes for affordable rent will provide safe, warm, quality places to live and contribute to the vibrancy and resilience of this island community.
"The Rural and Islands Housing Funds are open to a range of applicants and I would encourage other community organisations, landowners or developers to come forward with projects which can deliver affordable housing in their areas."
The trust will follow an agreed allocation process for applicants to help ensure a good match with aspiring islanders and the needs of the community.
Mowi, which owns a fish farm on the island, has contributed to the project. Further funding has come from a commercial loan, the trust's own funds and Crerar Hotel group.