Today marks 15 years since the murder of Nairn banker Alistair Wilson.
In part four of our web series about the case, we examine the many twists, turns, conspiracy theories and dead ends that have stemmed from the unsolved killing.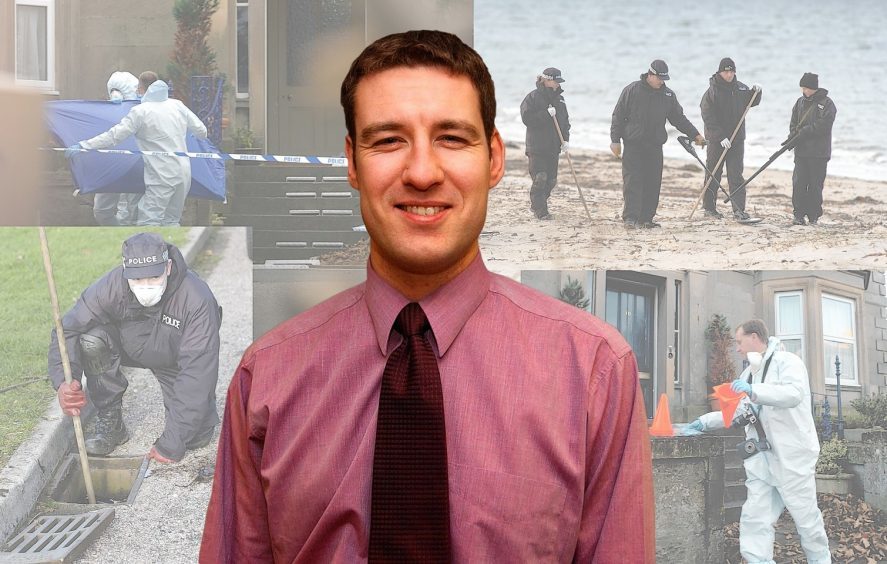 With each passing year it seems less and less likely that we will ever find out why Alistair Wilson was shot dead on his own doorstep.
The 30-year-old was reading his two young sons a bedtime story when his killer rang the doorbell of his three-storey sandstone house in Nairn on November 28, 2004.
It was around 7pm and the family were going through their usual Sunday night routine.
Alistair's wife Veronica answered the front door to a man wearing a baseball cap who uttered only: "Alistair Wilson."
It sounds ominous now with hindsight but Veronica wasn't startled at the time.
A few minutes later, Alistair Wilson was dead.
The envelope
It's one of the most intriguing aspects of this entire case.
After Alistair had a conversation with his killer on the doorstep, he returned upstairs to Veronica.
He was clutching a blue envelope, the kind you might get when buying a birthday card.
The envelope was open but there was nothing inside. The name "Paul" was written on the outside of it.
Veronica told the BBC in 2017 that Alistair "was just a bit bewildered by the name, that it was not addressed to him and there was nothing in the envelope.
"And I said 'no, he definitely asked for you by name'".
Neither Alistair nor Veronica sensed any danger at this point.
Tragically, Alistair returned to the front door and after more conversation, Veronica then heard what she described as the sound of wooden pallets hitting the ground.
She went to investigate and found her husband lying on the ground.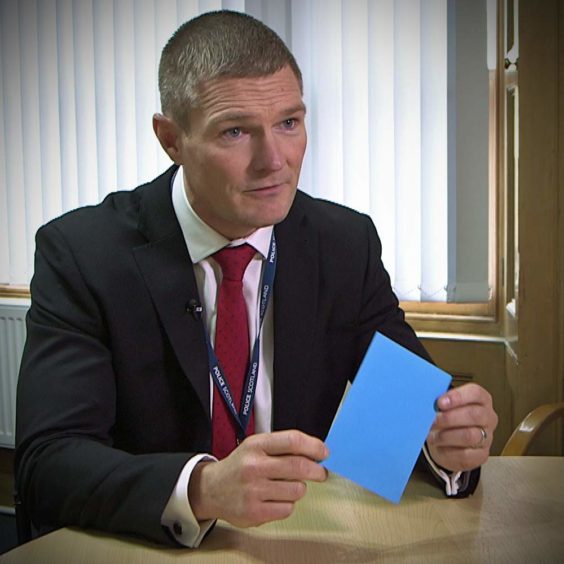 The fact that Alistair was handed an envelope and he had taken it inside the house was publicly known within a week. It was never recovered so presumably, the killer took it with him when he fled the scene.
Detectives who led the murder hunt for 13 years refused to offer any more details about the envelope and what it contained.
That meant for a long time people believed the envelope was the key to cracking the case.
In 2017, after 13 years of media pressure, Police Scotland finally revealed more about the envelope.
Unfortunately, it did not appear to be the white whale that would blow the case open that people were hoping for.
That nothing was in the envelope and that it had the name "Paul" on it seems to pose more questions than it answers.
Who was Paul? Was this evidence that this murder was the result of a case of mistaken identity?
Or was the killer trying to send a message to someone else, knowing the name would end up being circulated through the media?
The gun
Local councillors are often the first port of call when people are fed up with something on their street.
Back in late 2004, Nairn Provost Sandy Park was being asked regularly to get a blocked drain on Seabank Road sorted out.
It had been flooding the pavement for some time and people were getting annoyed by it.
A dispute between Highland Council and Bear Scotland meant that both agencies were claiming they weren't responsible for clearing it.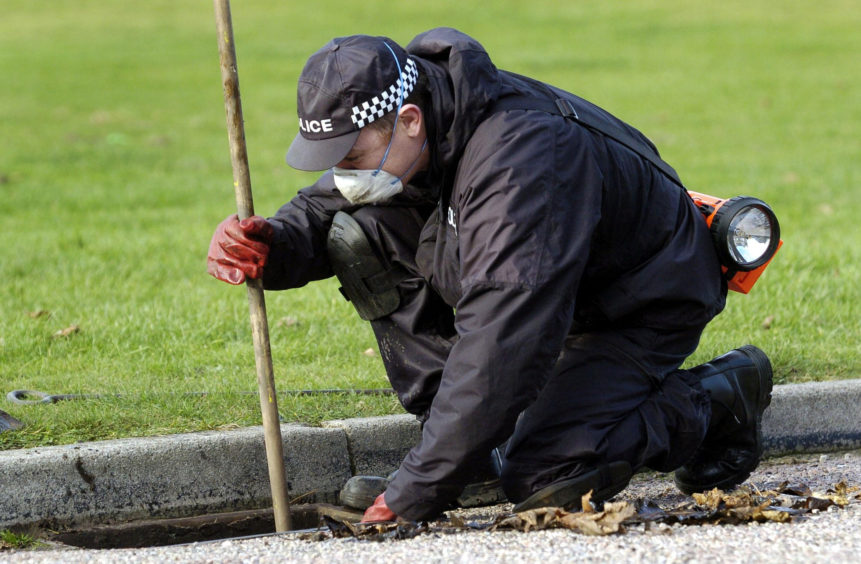 Eventually, Sandy intervened and told a council team that he didn't care who was responsible, it just needed sorted pronto.
It was December 8, 2004, 10 days after the murder of Alistair Wilson, and police hunting for his killer were confronted with a trail that had already gone cold.
But a shocking discovery made that day, less than a mile from where Alistair was killed on his own doorstep, led to a dramatic twist in the case – and put Nairn into lockdown again.
While a team of roadsweepers cleared out the town's deep gullies in preparation for the winter's wet weather, a small gun was sucked from the drains below.
It turned out to be the weapon that was used to shoot the father-of-two, and had been dumped just streets away from where the murder happened.
To this day, the unusual pistol remains the most crucial piece of evidence discovered, and at the time it gave the town hope that Alistair's killer might, one day, be caught.
Roadsweeper Charles McLachlan will never forget the day he ended up playing a major part in one of the country's biggest murder inquiries after the gun rattled out of his drain cleaner.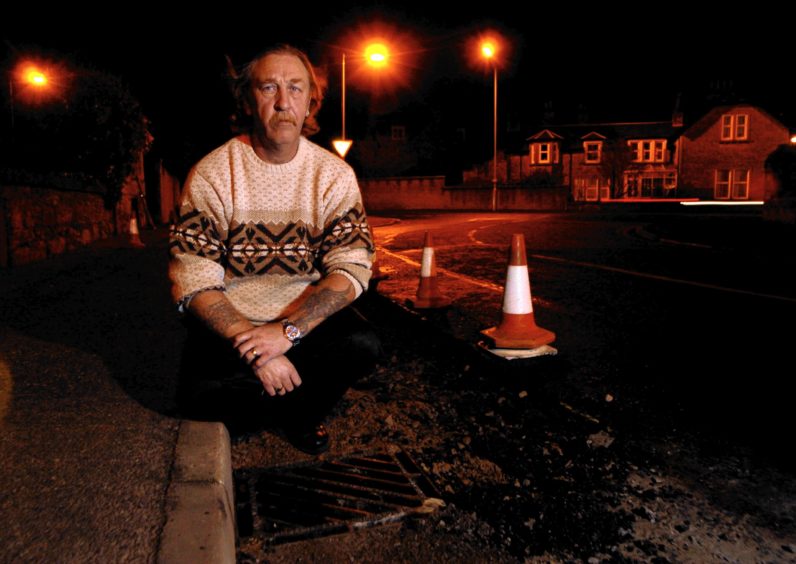 He had travelled from his home at Elgin to Nairn that day to clear out the gullies for the council – a job he had done countless times.
"It was common to find shoes, money, mobile phones and watches down them, but I had never seen a gun before. It was surreal," he told the Press and Journal in 2014.
"It was tiny, no bigger than the palm of my hand. We were later told that it was the type of gun Russian prostitutes used, as it was small enough to hide in their tights.
"We called the police to report what we had found, but none of us clicked what it was."
At the time, police were asked why Seabank Road had not been included in the search area, to which the force replied it was "outwith the search parameters" of the crime.
Charles and his workmates were sworn to secrecy as rumours started to circulate in Nairn that the murder weapon had been found.
He said: "We couldn't breathe a world of what we had found or what we were up to.
"As soon as we found the gun we thought that was the case solved, that it was over.
"We all thought someone would be nailed for the crime. It's frustrating to say, but I don't think the case will ever be solved."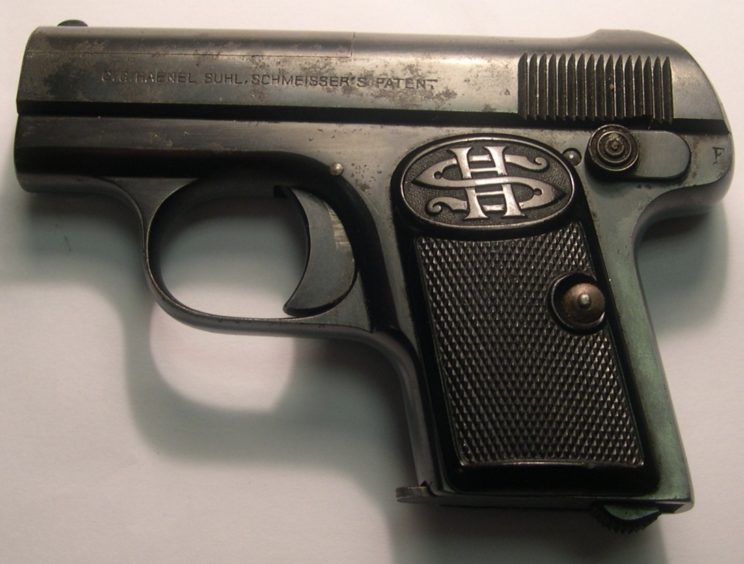 The weapon was sent for forensic examination and it was quickly confirmed by scientists as the gun that was used to kill Alistair Wilson.
But there were no fingerprints on it.
Whether that was entirely because it had lay in a drain for 10 days with wintry Highland weather washing over it or because the killer had taken steps to remove any traces of his DNA, we can't be sure.
One thing that was certain was that this was not your typical murder weapon.
A Haenel Schmeisser semi-automatic, known by nicknames like "pocket pistol", "ladies' pistol" and "handbag gun".
Four-and-a-half inches long and weighing around 400g, the appeal of this gun was clearly how easy it would be to conceal it.
Only 11 Haenel Schmeissers have been recovered in the UK in the past decade.
A short time after Police Scotland began re-investigating the Alistair Wilson case in 2016, a gun identical to the murder weapon was found in Nairn and handed to police.
One of the most popular theories – one that seems almost universally accepted in Nairn itself – was that this murder was carried out by a professional, a hitman, rather than just a local person with a grudge.
That so little is known about the perpetrator would seem to back that up but the choice of gun, one that would have to be used at close range to be successful, does not.
Indeed, if this was the job of a professional hitman, would he have spent so much time on the Wilsons' doorstep?
The house was across the road from a pub, so the risk of being spotted would have been enormous.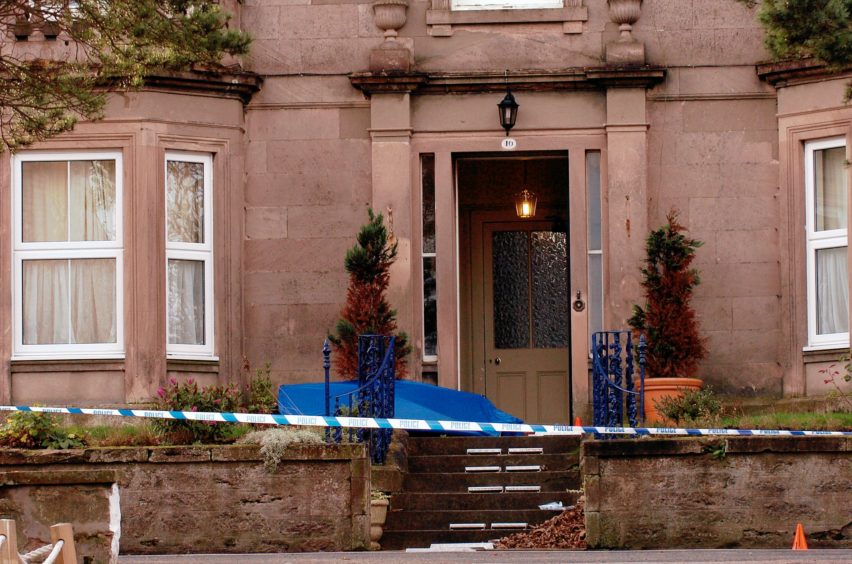 If the intention was always to kill Alistair, why did the gunman not shoot him during their first encounter? He allowed him to return inside, risking him being spooked and not coming back to the door at all.
For whatever reason, the killer seemed to be confident that he would come back.
Peter Bleksley, a former undercover detective who has researched the case in depth and published a book on it in 2018, has received numerous calls about it over the years.
One claimed to detail the killer's true intentions.
Peter said: "The information I have been told is that the man who went to the front door of the house went to negotiate and not assassinate.
"He was prepared to kill, clearly because he had a gun, but he did not intend to kill. Something went wrong."
Alistair
Alistair Wilson was born on March 4, 1974 in Ayrshire.
The second child of Alan and Joan Wilson, after his sister Jillian.
The family lived in Beith, a small town of around 6,000 people located 22 miles south-west of Glasgow.
Alistair attended Beith Primary and later Garnock Academy in Kilbirnie.
His high school English teacher John Hodgart remembered him as "quiet, good-natured" and "very well-mannered and respectful of authority".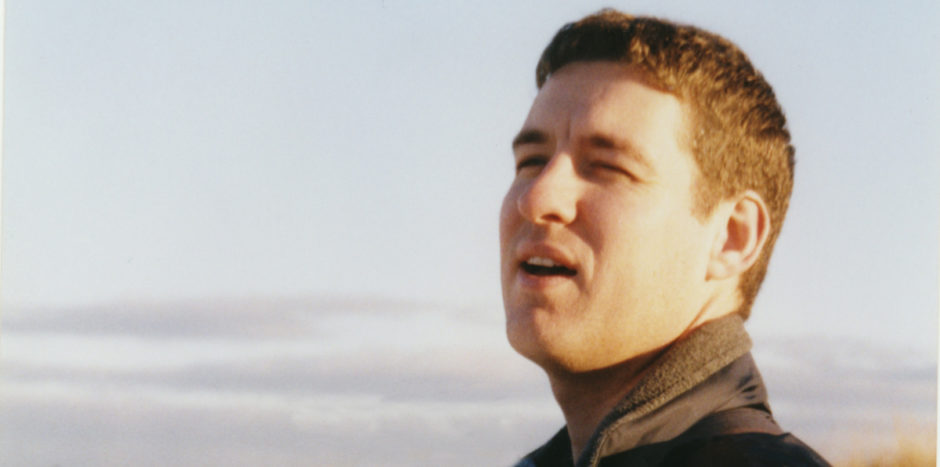 He wasn't into underage drinking or trouble-making, instead young Alistair spent his weekends listening to music at friends' houses or at Beith Golf Club, where his parents were members.
Schoolfriend Jamie Thornburn told the Scotsman in 2005 that Alistair "was the type of guy who wouldn't go out until after he'd done his homework".
He added: "He was also very focused. He knew even then he wanted to work for the bank."
After school, he enrolled at Stirling University, studying accountancy and business law. He graduated in 1996 and later that year he joined the Bank of Scotland as a graduate trainee.
Alistair was dispatched to Fort William where he met, and married, Veronica, a graphic designer.
It was a whirlwind romance. The pair were engaged within six weeks of meeting through mutual friends.
Veronica, during her first broadcast interview for 12 years, told the BBC in 2017: "He was one of those people you met and you just knew.
"It all happened very fast."
"When he said he'd be there at 8 o'clock, he was there at 8 o'clock – with a bunch of flowers.
"It was very nice having somebody who just instantly cared so much."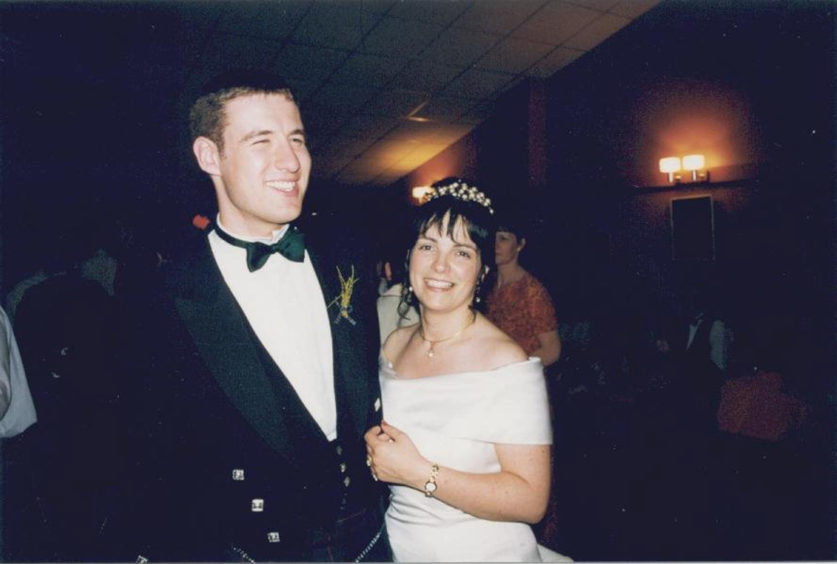 The couple moved to Peebles when Alistair was transferred to Bank of Scotland's PFI and specialist lending departments, based in Edinburgh.
But he was happy to move back north to Inverness in November as the new business banking manager, responsible for securing the business of small-to-medium firms across the north of Scotland.
Alistair and Veronica initially lived in Culloden but in late 2002, they decided to go into business themselves when they bought Lothian House on Crescent Road, Nairn.
It had previously served as a guest house and restaurant. The couple were joined by Iain MacDonald, Veronica's brother and a trained chef, and for nine months the family home doubled as a restaurant.
Unfortunately, Lothian House did not thrive under the Wilsons' stewardship and the restaurant closed.
Golf was Alistair's other passion when he and Veronica first got together.
But his priorities changed when his two sons came along. His focus shifted to being a hands-on dad.
In his final year with what was now the Halifax Bank of Scotland, colleagues of Alistair's recalled that he took it hard when a multi-million pound loan he believed he had secured for a business in Orkney was rejected by head office.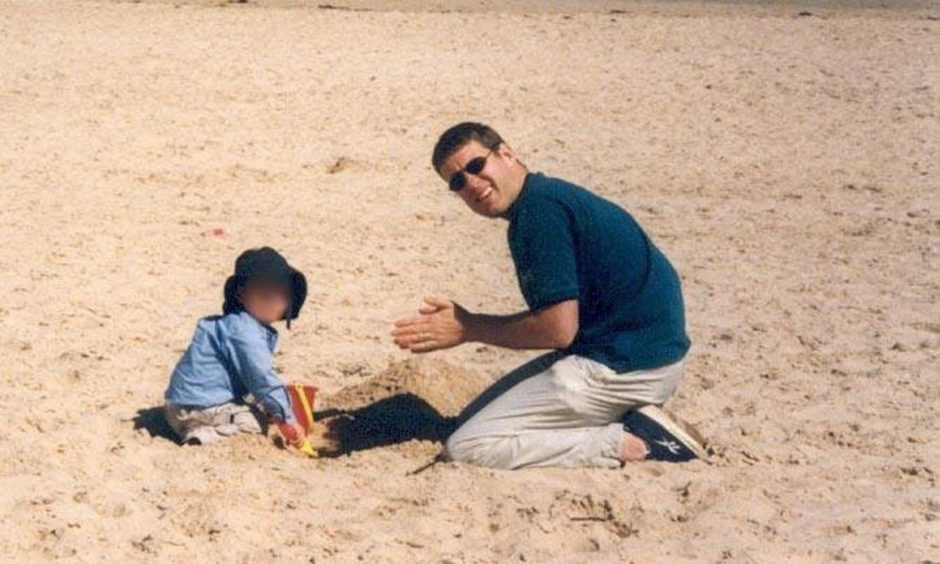 With no prospect of promotion in the near future, he applied and was offered the post of regional director for Building Research Establishment, a consultancy business that was just starting out in Inverness.
He was due to start his new post around a week after he was ultimately murdered.
The nature of such a mysterious case means that there has been a lot of discussion about Alistair's private life.
But despite being pored over by detectives for years, nothing salacious, scandalous or offensive has ever been published.
Colleagues remember Alistair as someone who was always courteous to women, and someone who preferred to spend time with his family above anyone else.
Detective Chief Inspector Peter MacPhee, speaking on the first anniversary of his death, said: "The question of possible infidelities was something we had to look at, but there was nothing.
"We have not found a dark side to him. If there was, we would have expected to find it by now."
The second witness?
Only a handful of witnesses claim to have caught a glimpse of the man who shot Alistair Wilson dead on his own doorstep in cold blood.
And little or nothing is known about the elusive killer who managed to evade CCTV cameras, left no forensic evidence and escaped town without trace.
One local man remains convinced he boarded a bus with the gunman – and even saw him disappear in the direction of Alistair's house.
Tommy Hogg has been interviewed by police numerous times over the last 15 years, and says he will "never forget" the face of the stranger he saw that night.
The long-time Nairn resident and his wife had been travelling back from a wedding in Perth on November 28, and were dropped off at Inverness bus station.
As they boarded the bus to Nairn, Tommy recalls being disturbed by a "strange" man who sat next to them.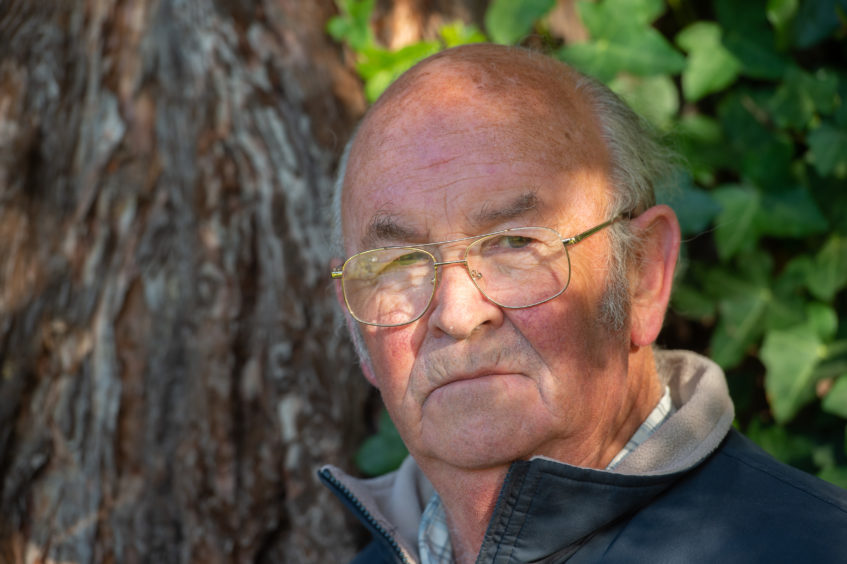 "I said to myself as soon as I got on the bus, that guy is weird," he said.
"I kept looking at him, and he kept looking away. Every time I caught his eye, he would pull his collar up.
"I remember saying to my wife that I thought he was up to something. She agreed."
Tommy said the man got off at the bus stop before Alistair's house, and headed in the direction of Crescent Road.
However, as he turned the corner out of sight, the stranger continued to play on his mind.
And after the couple returned home, their unsettling encounter was brought sharply back into focus.
"Later on my wife went to the local chippy to get us some dinner, where she was told that someone had been shot," said Tommy.
"She came back and said to me – 'you're not going to believe this, but there's been a murder in Nairn'.
"The place was swarming with police."
By the end of the night, the community was buzzing with rumours that a local man had been executed on his own doorstep – and that the culprit was still at large.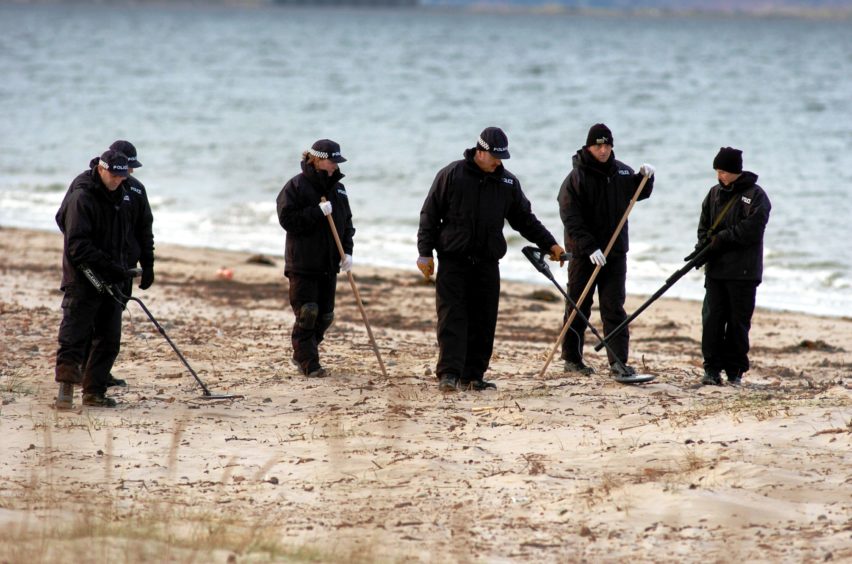 Tommy and his wife realised they might have vital clues to his identity.
"I'll never forget his face – I can visualise him now," he said.
Tommy said the suspicion surrounding the case had changed the close-knit community of Nairn forever.
He was one of hundreds of local men who were swabbed and DNA-profiled to eliminate them from the case.
"Nairn was never the same after that," he said.
"From the rumours to the gossiping to not knowing why Mr Wilson was killed, it all got so mixed up.
"It's something that will never leave this town."
Police said they traced the man they believe Tommy saw on that day and eliminated him from their inquiries.
The baffling thing is that police didn't seem to circulate that information widely, not even to Tommy himself.
The decision to not produce an e-fit from either Veronica Wilson's sighting or Tommy Hogg's has also prompted some criticism of the police.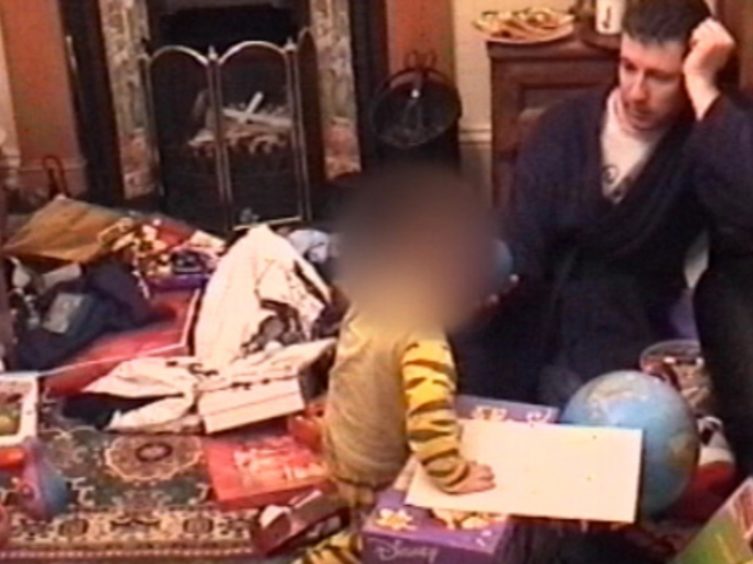 Professor David Wilson, a criminologist who has studied the Alistair Wilson case, said: "Through speaking to Tommy Hogg it has made me think why was there never an e-fit of the man he saw and why was there no public appeal on the back of that information?
"I wrote about it and Police Scotland contacted me on the back of that. They said they had interviewed Tommy Hogg, showed him an e-fit and it was the same person they had seen, and they had ruled him out.
"That in itself seems odd because Tommy was unaware they had ever tracked down the person he had seen."
Peter Bleksley said in his 2018 book that he was not a fan of the theory that this was the man who killed Alistair Wilson.
He said: "Gut instinct was telling me that he could not be the murderer. Too many potential witnesses, too high a risk of being captured on CCTV and how are you going to escape the scene, by hailing down a bus?
"I don't think so somehow."
The theories
With so little concrete information about the murder after 15 years, the conspiracy theories about what happened have been numerous.
Was it a colleague with a grudge? A contract killing? A business deal gone wrong? A crime of passion?
One theory from 2005 that was published in a national newspaper stated that Alistair had been targeted by an IRA assassin after refusing a proposition to manage a £26m bank heist and help launder the money.
No evidence of this or the hundreds of other theories have ever been substantiated.
Undoubtedly, the publication of Peter Bleksley's 2018 book To Catch A Killer, breathed a bit of new life into the case.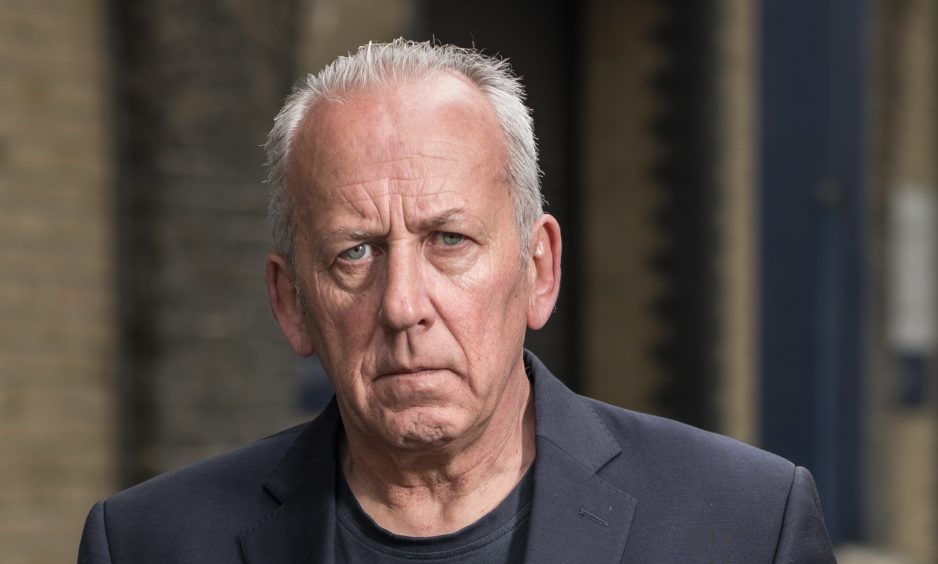 Not least because it revealed several new potential theories from his own research.
Livingston FC
As detailed in his book, a source of Peter's told him: "Alistair was killed because of the finances of Livingston Football Club.
"That is common knowledge among some members of the legal profession in the Central Belt.
"The reason nobody has come forward is because they don't want an assassin at their front door."
Livi is a club that has endured a bit of a rollercoaster over the past two decades.
After quickly rising through the Scottish ranks, they pulled off a miraculous third-place finish in the top flight in 2001-02.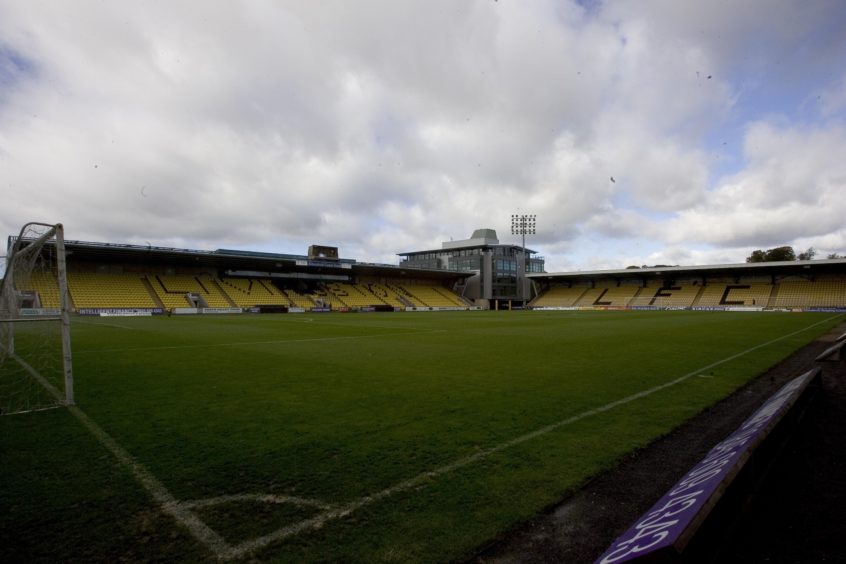 Their finances, however, were a mess. They were losing money hand over fist and in February 2004, hours after a League Cup semi-final win over Dundee, the club was forced into administration by the Bank of Scotland with debts of £7.2m.
Players and staff were made redundant as the administrator took over the running of the club.
No one involved with Livingston in 2004 is still there, so the club is unable to address these allegations, while Police Scotland has not commented on them.
'An inside job'
Back in 2009, Peter was in Nairn trying to dig up whatever information he could about the case.
He found himself in a bar after several days of interviewing and when he went to the toilet a Scottish voice from behind him said:
"Don't turn around, this is all I'm going to tell you.
"It was an in-house job, but we just couldn't prove it."
There were police in the bar that night and Peter's assumption is that it was an officer that spoke to him.
But the tip itself is far from clear. Does in-house mean from within Alistair's own workplace? His own family? Something else altogether?
Shaun Douglas
Police have been trying to speak to a man who lived closed to Alistair Wilson's at the time of his death in 2004.
Shaun Douglas wasn't interviewed at the time of the shooting and then moved to North America.
He lived with dad Keith in nearby Cumming Street at the time of the murder.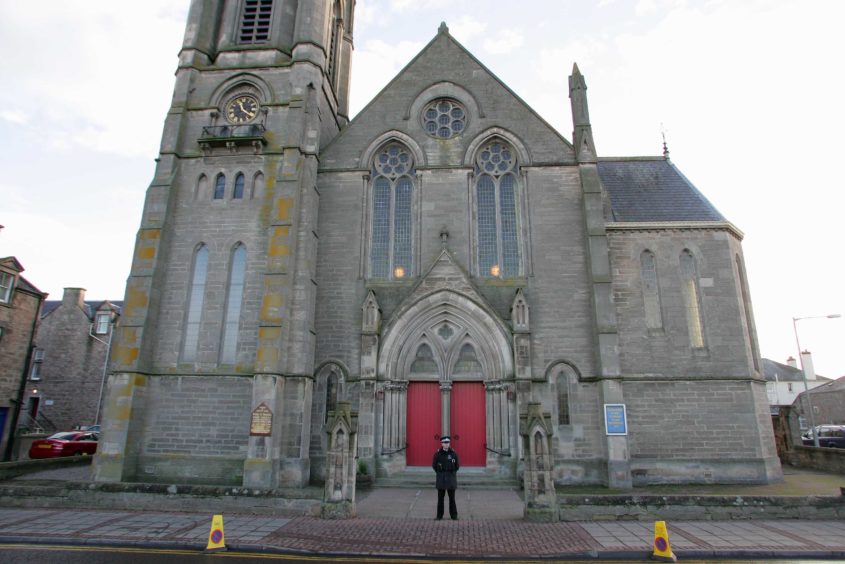 Detectives have reportedly been trying to trace him since the start of their cold case review of the unsolved case in 2017.
Keith said his son was in the family home at the time of the murder. Officers spoke to him days after Alistair's death but not to Shaun.
Keith told the Daily Record last year: "Shaun didn't have a gun and he's not a violent person.
"He's a brainy lad, he's clever. I think he should speak to the police."
Police Scotland were asked if Shaun Douglas had been interviewed since his name was revealed in Peter Bleksley's book but they did not respond.
Nairn
As the people of Nairn are quick to point out, incidents like Alistair Wilson's murder are not a common occurrence there.
It's something you often hear people say at the scene of crimes and it isn't always true.
In Nairn's case, however, it is.
Before the shooting, there had been not been a murder in the town since 1986. On that occasion, a man was stabbed during an argument at a wedding reception.
A town synonymous with summer holidays, ice cream and sandcastles, it's not the sort of place you would ever expect a gangland-style murder.
Dick Youngson, a long-time resident who served as a community councillor for more than four decades, said he remembers how bewildered everyone was when they heard about the murder.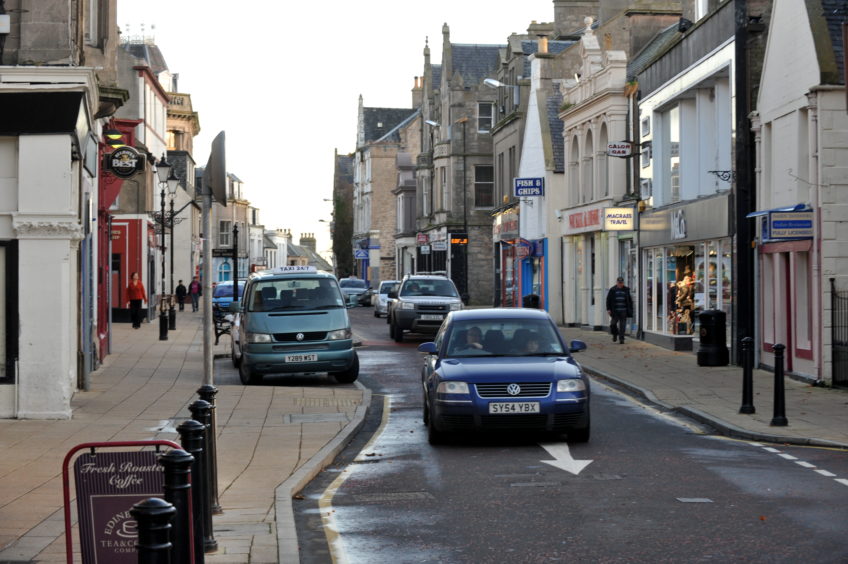 He said: "People just really couldn't understand it. It's just one of these sad stories we have to live with at the moment."
"But the family have been marvellous, they've stayed in the same house and are still part of the community."
If that's the impression of the Wilsons in Nairn, it would be fair to assume the gratitude goes both ways.
On the very first Christmas without Alistair, less than a month after his death, strangers left presents for his young sons on the family's doorstep as Nairn rallied round them.
We may never get the answers we have been waiting for about this case. But the people of Nairn will never be short of support for one another.