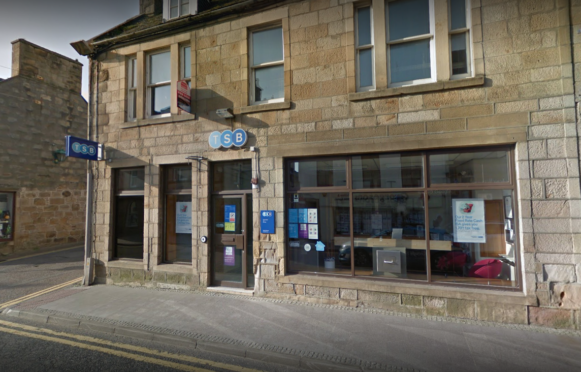 Residents of a Highland burgh have been dealt a "slap in the face" as TSB confirms the closure of its branch.
The TSB in Tain is bound for closure in June leaving just one bank – Bank of Scotland – in the town.
TSB customers now face a 24-mile drive to Dingwall to reach their nearest branch.
Michael Baird, 71, has been a loyal customer with the bank all his life and says he feels "put out" by the closure.
He said: "As a life-long customer with the bank, I am a bit put out. I have been banking there since the day I was born, since 1948.
"I have a number of accounts with the bank so I am now being forced to go to Dingwall or Inverness to remain with the bank. It's come as a shock."
Local councillor Alasdair Rhind said the closure shows "total disregard" for the challenges faced by residents of rural communities in the north.
He said: "It's very disturbing to hear that the branch is to close. All these national organisations in the banking world, are thinking so much about themselves but have total disregard for the remoteness of Highland communities and the number of people that come into town's to do their banking and business."
Meanwhile, Adam Stachura, Head of Policy at Age Scotland, condemned the firm for putting profits ahead of its loyal customers.
He said: "This is another slap in the face to loyal bank customers, especially those who are older, disabled, or don't have internet access. It's extremely disappointing to see yet another bank put profits ahead of its customers, particularly those who need to use a branch most.
The bank is one of 17 Scottish branches outlined for closure between April and September next year as part of a £100m cost saving venture. These include Barrhead, Glasgow, Kinross, Uddingston, Edinburgh, Carluke and Brechin.
A spokesperson for TSB, said: "This decision was not taken lightly. However, nearly 80% of customers at our Tain branch already use alternative TSB branches, or use online, mobile, telephone banking or their local Post Office to access their banking services.
"We're in the process of writing to those customers impacted, and our TSB partners are always on hand to work with our customers to support them ahead of the planned closure in June."