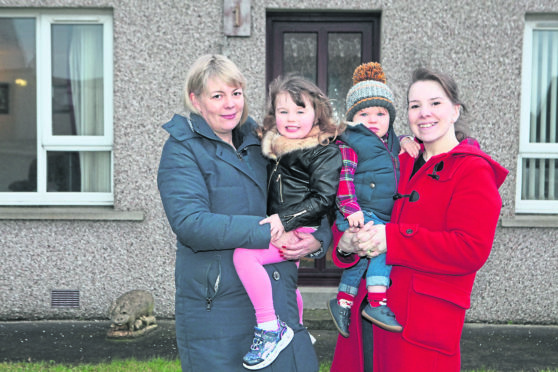 Orkney is facing a childcare crisis with some parents claiming they may have to quit their jobs as they have no-one to look after their children while they work.
Peedie Breeks Nursery in Kirkwall is being evicted from its premises at Papdale Halls of Residence as the council-owned property is to be knocked down.
The privately-run nursery will close in June, leaving the islands in a situation where no childcare provision will be available for youngsters up to the age of three and there will be no out of school care.
A very small proportion of this is provided by childminders but there will be nowhere near enough supply to meet demand.
Mandy Pellow, 45, is a single mum to three-year-old Molly.
She said: "I work in air traffic control. I am a flight information service officer in Kirkwall airport.
"I can't see any way round it at all. We are on shift pattern and cover on call for the air ambulance. Peddie Breeks works round this.
"I would have to give up my job. I don't doubt I would be able to pick up other work but not on the same salary.
"I would probably have to move home."
Nurse Catriona Flett, 32, of Kirkwall, has a 14-month old son, Sigurd.
She said: "It is quite stressful  as Peedie Breeks is the only nursery in Orkney which looks after children under three. They also do school drop-off and after school club.
"They have been unable to come to an arrangement with the council to find a new building. It is under threat of closing earlier than June if the staff start leaving because of a lack of job security.
"We are being forced into reduced working hours or taking career breaks. We don't have options. There are a lot of stressed parents here. June is not that far away."
She added: "I work for a high dependence unit at the Balfour Hospital. It's a small team of 10 and some of us need childcare. If these specialist units in Orkney shut down, people will have to travel to Aberdeen again for care."
The nursery says it has been given little support by Orkney Islands Council.
Owner Michael Cursiter said: "We are being evicted from our council premises. They want to knock the old hostel down.
"The nursery is not profitable enough to sustain a new build. We asked the council for a bit of help and not a penny has been forthcoming. We don't fit in with any of their policy and we are where we are."
A working group has been set up to consider what action the council may need to take following the nursery's decision to cease trading.
Gwenda Shearer, chairwoman of Education, Leisure and Housing said: "Councillors were advised of the significant shortage of childcare in Orkney as well as the level to which parents rely on the service provided by Peedie Breeks for their childcare needs.
"We also considered representation from parents which indicated that the closure would have an impact on family wellbeing as well as on local businesses and employers, including the council and NHS Orkney.
"We are very aware of parents concerns and are working hard to find a way forward."