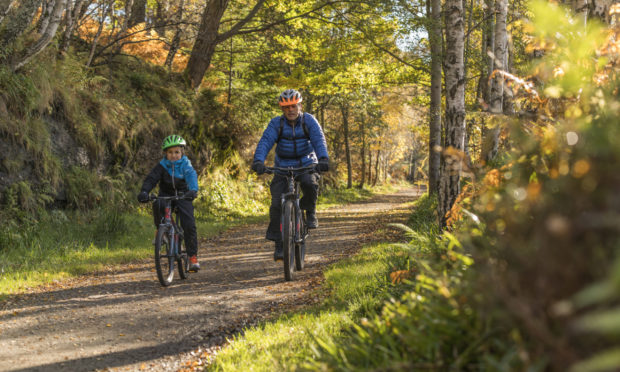 A new Cairngorms National Park survey has revealed visitor satisfaction is at an all-time high with thousands declaring they "love this place".
Visitors are to be welcomed back today as the national park emerges from lockdown, with an incredible 96% of previous visitors giving a glowing review.
The results have been published alongside the latest data figures which assess the volume and value of the visitor economy in destinations.
The data revealed 2019 as the year of the highest recorded amount of people visiting the Cairngorms standing at over two million – up 7.5% on the year previous.
Overseas visits have increased over the past five years – however, visitors from across the UK made up three-quarters of park traffic, with nearly half hailing from other parts of Scotland.
The visitor survey, which ran from May 2019 to March 2020, asked participants for feedback on their overall satisfaction, with a nine out of 10 rating returned.
Grant Moir, Cairngorm National Park Authority (CNPA) chief executive, said: "This is undoubtedly the most challenging time that the tourism industry has ever faced but these figures are really very encouraging because they show that, prior to the pandemic, the visitor economy in the Cairngorms was exceptionally buoyant and more people than ever are choosing to visit.
"The survey shows that our businesses here in the national park place huge importance on customer service.
"This philosophy is demonstrated by the exceptional effort that businesses have put into reopening, having measures in place to meet Covid guidelines and ensuring that everyone has a safe and enjoyable visit."
Despite the positive outcome of the survey, visitors have called for better public transport and public toilet facilities.
Mark Tate, chief executive of Cairngorms Business Partnership, said the results are "encouraging and demonstrate just how much our visitors value everything we have to offer in the Cairngorms".
He added that it is a "really tough time for all businesses" with the tourism industry particularly hard hit as some are unable to reopen with others in line for a long recovery.
"We really value our visitors, we have missed them and it is fantastic to be able to welcome them back."