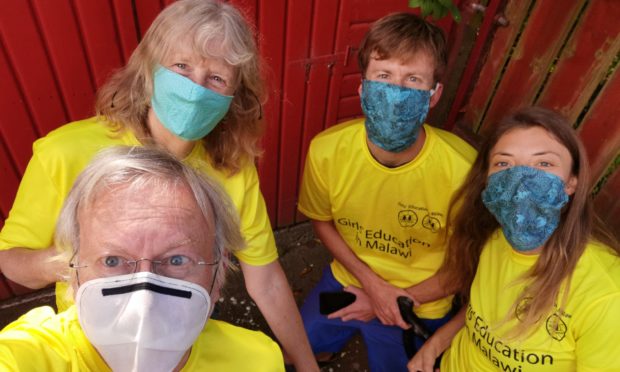 A family in the Black Isle have clocked up hundreds of miles to raise money for children's education in East Africa.
The Mamie Martin Fund (MMF) had hoped to hold a cycle tour in the central belt, but due to the pandemic, it couldn't go ahead.
In light of the situation, the charity – which supports girls' education in Malawi – launched a stay-at-home version.
Other people have now taken on the challenge with 15 people now signed up.
Supporting the cause is Jean Gordon and Richard Robinson from Fortrose who are covering the miles locally on their bikes.
Their son James and his partner Lucy, who both live in England, have also signed up for the challenge, giving them a good excuse to take a long overdue trip home.
Mrs Gordon says the feat has enabled them raise awareness while discovering hidden gems on home turf.
She said: "With Covid-19 and lockdown, we, like so many others, have been turning to our local countryside for entertainment and activity. Taking part in The Mamie Martin Fund's Stay at Home bike ride has encouraged us to explore the network of roads, paths and forest tracks that criss-cross The Black Isle.
"Knowing that our travels – and bright yellow MMF T shirts – are raising awareness of the importance of girls' education in Malawi, as well as funds to enable girls in poverty to go to school, has made those journeys, however short or meandering, even more worthwhile."
The ride – which will now take place on Saturday, August 1 – is named after Mamie Martin, who had an important role in promoting and supporting girls' education in northern Malawi in the 1920s.