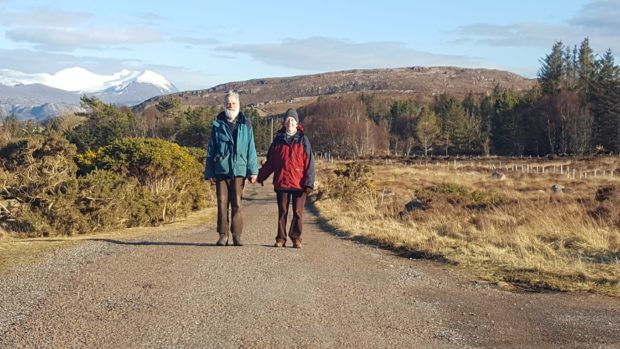 An 80-year-old man is hoping to climb all of Scotland's 282 Munros in support of Alzheimer Scotland, after his wife was diagnosed with the condition.
Nick Gardner, a retired teacher who lives in Wester Ross, is also fundraising for the Royal Osteoporosis Society, hoping to raise £10,000 to be split between both charities.
His wife, Janet, became ill with Osteoporosis in 2002, and then was diagnosed with Alzheimer's Disease as well as Vascular Dementia in 2018.
The grandfather of four told the Sunday Post: "Janet has always been passionate about helping others so I wanted to raise money in her name to hopefully help make things a bit better for others suffering from these horrible diseases."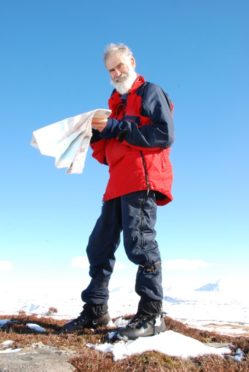 Describing Janet as "the love of his life," the couple met in 1972 through mutual friends, and decided to move to Scotland 32 years ago.
"We often talked about how lucky we were to have met," said Nick.
"We had both been married before and had four children between us and we both wanted to live a similar lifestyle, so when the children left home, we moved from suburbia to a 10-acre croft.
"Janet has been the most wonderful and caring wife, mother and grandmother possible and I am eternally grateful that l fell in love with her."
He added: "I'd always been completely enchanted with the Scottish Highlands since I was at university in St Andrews, so I knew we were making an amazing choice moving here."
Moving to the North-West Highlands from Leicester, the pair lived an "idyllic" 30 years together before Janet's condition meant she had to be hospitalised.
"Janet's diseases meant that our wonderful lifestyle had to come to an end, and I have struggled greatly coming to terms with it all," said Nick.
"I didn't know what to do, I felt completely lost.
"It has been terrible – I lost my soulmate and I just felt like my world had been turned upside down.
"Then I saw a story in a newsletter from the Alzheimer's society where a young woman who had no climbing experience climbed 20 Munros in memory of her grandfather who had the disease.
"I've been an experienced climber most of my life, so that inspired to me to try and do all 282 Munros to raise money for these charities that support people like Janet.
"It's helped me greatly, and has given me something positive to focus on, taking my mind off my sadness."
Having climbed many mountain ranges in his long life, including the Alps, and mountains in Spain and Norway, Nick believes that even despite his age, he still has the skills, stamina and fitness to reach his goal.
Hiking in environments many younger climbers would find difficult, the 80-year-old will at times climb four Munros in one day and has climbed 33 Munros since he began his challenge in July.
But he says, he has to remind himself to take it easy, and that he knows not to push himself too hard.
"The main problem is my knees," he said.
"As we get older, most climbers find it's the knees that cause issues. But I am setting myself realistic targets and I'm not thinking about the 282 figure – I'm thinking in terms of smaller numbers which makes it all a lot more manageable.
"But I'm a very determined person. Once I set my mind on something, I work very hard to make it happen."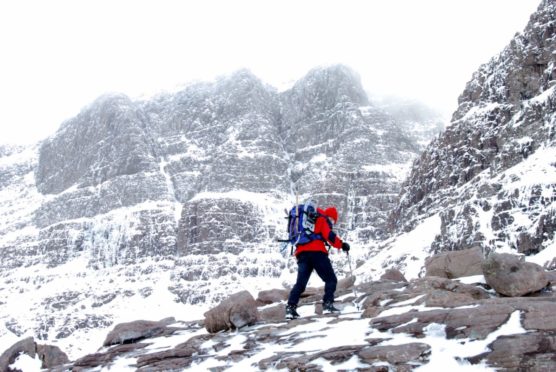 Nick's aim is to climb all the Munros in 1200 days, and is also calling on friends and members of the public to join him on his hikes, as he says, because of his age, he realises he shouldn't be doing it alone.
His daughter, Sally, has set up an Instagram page documenting the challenge which has attracted over 1500 followers, and Nick says he now has a list of people to call who have signed up to walk with him in the mountains.
"It's lovely and I'm really looking forward to meeting new people," he said.
"I worry that Janet doesn't have much time left – sometimes she recognises me and sometimes she doesn't, which I find terrible.
"But hiking and being with others helps to take my mind of it greatly.
"It's a little hard to organise a timetable for people to slot in to, because I like to visit Janet frequently and I like to climb only when it's good weather, but I'm hopeful I'll be able to complete it all in the time I've given myself.
"It's really given me something to look forward to again."
---
To donate to Nick's Munro Challenge or to sign up to join him on his hikes, visit:
https://uk.virginmoneygiving.com/Nicks-Munro-Challenge