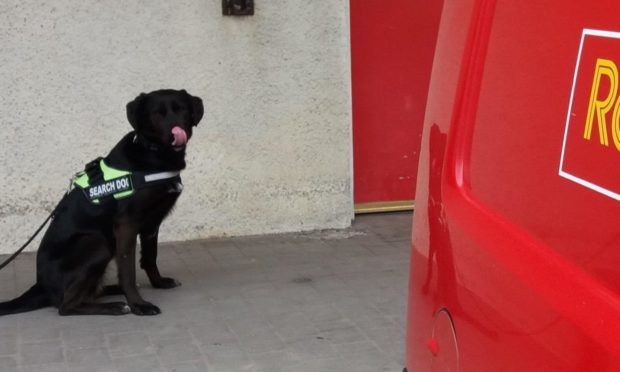 A drugs dog from Orkney has helped police seize more than £10,000 of substances in Glasgow.
Officers from Kirkwall teamed up with black Labrador Zoe from the Orkney Drugs Dog charity and her handler for the operation.
The information they gathered helped police in Glasgow recover £10,000 of drugs in the Possilpark area of the city on Monday.
A 24-year-old woman was charged in connection with the find.
Chief Inspector Matt Webb, area commander for Orkney, said: "Police Scotland is absolutely committed to acting on information provided by the public to reduce the availability of drugs in our community and minimise the harm they cause.
"Thankfully a significant quantity of illegal drugs bound for streets throughout Scotland have now been seized and I would like to thank Orkney Drugs Dog for their continuing detection and deterrent work – the charity has a significant impact in minimising harm not only locally, but in communities nationwide.
"Zoe and her handler are not only committed to detecting and stopping people transporting drugs to Orkney, but carry out a fantastic programme of drugs education and prevention in schools and to other groups.
"I cannot praise the charity enough for the contribution they make to helping keep our community a safe place to live."
The Orkney Drugs Dog charity was founded in 2018, inspired by a similar scheme in Shetland, and recruited their first and only dog Zoe last year.
While much of her time is spent visiting schools to educate Orkney's children about drugs, Zoe has also found considerable success assisting the police.
Earlier this month, the charity announced it had helped to seize 4kg of herbal cannabis, more than 500g of resin cannabis, 100g of cocaine and 5g of heroin from post offices and other points of entry on the islands between October last year and July.
Sylvia Robertson, vice-chairwoman of the charity, said: "Thanks to the valued support of Orkney Alcohol and Drugs Partnership and our local community, we are proud to continue playing our part in reducing the supply of drugs within Orkney and the rest of Scotland, helping to keep future generations safe."