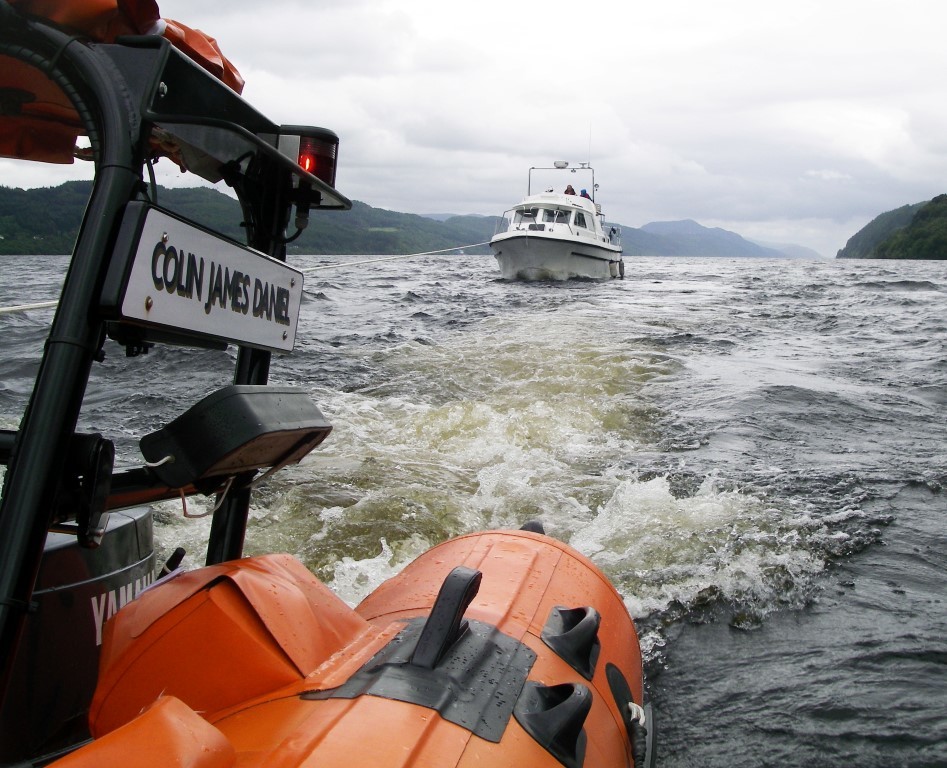 Jamie McKenzie
A dog owner has described how lifeboat volunteers helped rescue his beloved dog after it tumbled down a cliff above Loch Ness and broke its leg.
Ricky Simpson, a 38-year-old tourist from London, was walking with his girlfriend at Foyers when his English Bull Terrier, Stan, ran off and fell down 20ft to the shore.
The two-and-a-half-year-old dog broke its leg and suffered a hernia to its stomach, and spent last night in an Inverness vets receiving treatment.
The holidaymaker, who was calling the dog for 10 minutes after it ran off ahead, eventually spotted his helpless pet lying in pain on a small beach.
He then scrambled down the steep 20ft slope himself to tend to the animal.
At the top of the walk, which is believed to be about 150ft above the loch's edge, Mr Simpson's girlfriend called the Coastguard.
The Loch Ness RNLI lifeboat was called out to the incident at around 9.50am yesterday and arrived on scene about 10 minutes later.
However the boat, which was carrying three volunteers, could not come ashore because of rocks.
But one crew member reached the shore and helped Mr Simpson scoop Stan onto an ambulance pack before wading him out through chest deep water to the lifeboat.
One side of the lifeboat was then deflated to bring it down to the water level so that Stan could be taken aboard.
The dog was then taken to Foyers Pier and transported to Crown Vets in Inverness for treatment.
Mr Simpson said that the dog was poorly and was undergoing a £2,500 operation last night to fix its broken rear leg.
He said: "When I was climbing down, my feet were obviously shaking with the shock but my girlfriend managed to call the Coastguard.
"Where he was on the shore it was about a 20ft drop. I could not walk down and back long the shore because there were rocks either side of where he was, but luckily enough the beach was wide enough to get to. I am a roofer and I am careful about where I put my feet.
"The crew on the lifeboat were absolutely amazing. One of the guys had his arm around me to help calm me down."