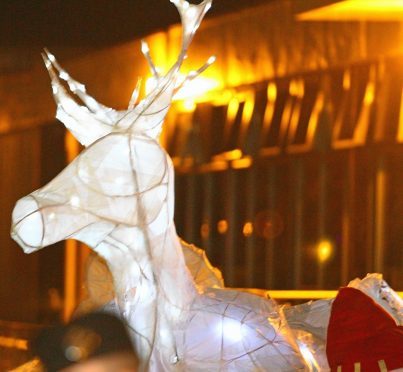 A lantern parade and fireworks display to mark the end of Oban Winter Festival had to be postponed due to adverse weather.
Organisers are hoping for a period of settled conditions in order to reschedule the event, which had been due to take place on Sunday.
Oban was hit by high winds, sleet and snow at the weekend.
A large kelpie-shaped lantern was to snake its way from the Corran Halls, along George Street to Oban Distillery, where it would be met by an even larger of the mythical creatures above emerging from McCaig's Tower.
A light show and fireworks display was to follow to mark the end of the 10-day festival.
Chairwoman of Oban Winter Festival, Pamela Lockhart, said: "We had to take the decision on Saturday to postpone it.
"Because it was lanterns it wouldn't have been safe. Without the lanterns the performance wouldn't have made sense, and I don't think people would have wanted to put their children out in that weather anyway.
"We have the lanterns and we have paid for the fireworks so we haven't cancelled it, we have only postponed it. The event will take place at another time. We need to meet to see when it will happen. The weather will need to be settled. It would be nice if it could be before Christmas."
The lantern parade and fireworks display is an annual event to mark the end of the festival, and is accompanied by live music, a hog roast and hot pimms.