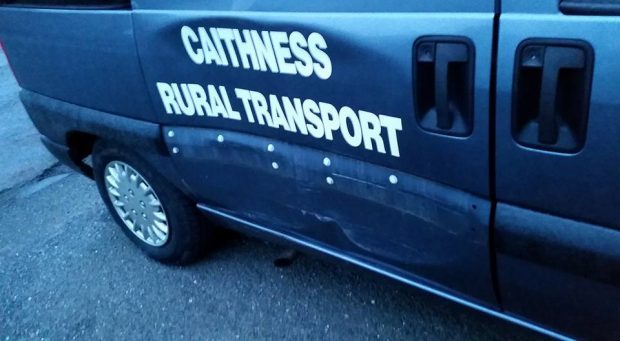 A north charity has been left to foot a repair bill after one of their minibuses was damaged by a careless driver.
Caithness Rural Transport has been left "very frustrated" after whoever dented the bus didn't own up after the incident.
The charity provide a "dial-a-bus" service for people who live in rural parts of Caithness without access to other forms of public transport.
The buses are specially prepared to accommodate older people with mobility issues and people in wheelchairs.
The damaged bus had been used to transport a group of pensioners to the pantomime on Saturday afternoon and safely parked up at the charity's base on Nicolson Street in Wick when the damage occurred.
It was found on Sunday morning by the group's transport co-ordinator Coreen Campbell with a sizable dent and missing some trim from its side.
Police were informed but have so far been unable to find whoever caused the damage to the bus.
They have now appealed for any witnesses to get in touch with them.
Mrs Campbell said: "I found it with a bit of the trim missing and this huge dent.
"The first thing I did was check the office phone because the number was on the side of the bus. I hoped whoever did it would have left a message but they didn't."
Mrs Campbell said that some motorists use the small parking area as a turning circle and had her own car damaged in a similar incident.
However, on that occasion the perpetrator owned up and the repair was settled through insurance.
The charity is due to take the bus to get repairs priced today.
The charity rely on donations and small fares from people booking the bus to keep the service running.
Mrs Campbell added: "It's just such an inconvenience, it's very frustrating.
"Funding is hard to come by anyway and this is just added pressure on the coffers which we really didn't need."
A police spokeswoman said: "The vehicle is thought to have been damaged some time between 7pm on Saturday and then 10.30am on Sunday morning.
"Inquiries are ongoing."
She added that any witnesses should contact them on 101.