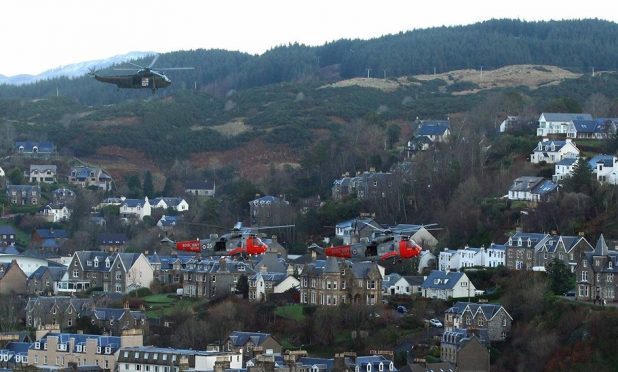 They have been an often-comforting presence for those in need of emergency help for the past 40 years.
And yesterday, communities across Scotland turned out to bid an emotional farewell to the Royal Navy Sea Kings as they performed a final fly-past.
The military's last Scottish based search and rescue helicopter crew said goodbye after 40 years of service.
Royal Navy Search and Rescue Flight, HMS Gannet, has been commissioned at Prestwick Airport since 1971 and is one of the busiest SAR (Search and Rescue) teams in the UK.
The Maritime and Coastguard Agency has now taken over responsibility for SAR operations in Scotland, coming in to effect on January 1.
Three Royal Navy Sea King helicopters made visits to some of the areas which have seen the majority of their rescues.
They flew over Fort William just before midday, where Lochaber Mountain Rescue Team members were out at the Glen Nevis landing field to light a flare and wave goodbye. One of the helicopters broke away from the group and made a circuit round Ben Nevis.
The Sea Kings arrived in Oban an hour later where a large crowd made up of members of the public and representatives of the emergency services were at the North Pier to greet them as they flew across the bay.
Speaking at the pier, Chief Inspector Mark Stephen of Oban Police Station said: "Police Scotland have the overall control of search and rescue operations unless they are at sea, so we worked very closely with them.
"Rescue 177 has on many occasions assisted us in Oban Lorn and the Islands to carry out searches for missing people. There is no doubt they have saved many lives.
"It is great to see all the volunteers here from the coastguard, lifeboat and mountain rescue team, who all work closely with Police Scotland."
Iain MacKinnon, station officer at Oban Coastguard, said: "It was quite emotional actually, that is the last time we will see these aircraft.
"I have worked with them for more than 20 years, it really is the end of an era.
"The fly past was in close formation, it was a really expert piece of flying. It was really nice to see them."
Andy Ravenhill, Oban Mountain Rescue Team Leader, said: "We used the helicopter services and the crews are all friends and colleagues of ours. We came out to say goodbye.
"They will be missed because there are a lot of characters in there and a lot of expertise. We are now working with the MCA with the new helicopters and more than half of RAF helicopter crews are migrating o the coastguard contractor.
"The main thing is we are getting a whole fleet of shiny new helicopters. Sea Kings were designed in the 50s and started service in the 60s, they are quite an old design. The new helicopters, Sikorsky S92s, have better performance and range."
Oban Lifeboat was also standing by in the bay to show its respect.
Justice Secretary Michael Matheson said: "HMS Gannet has provided a dedicated and committed search and rescue service not only for Scotland but for the whole of the UK.
"Despite being one of the busiest search and rescue flights in the UK, the crew has provided a world class rescue service for the local population and international visitors."
The Sea Kings also visited Prestwick, Glasgow, Garelochhead, Tyndrum, Crianlarich, Inverlochlarig, Stirling, Edinburgh, Ayr and Troon.