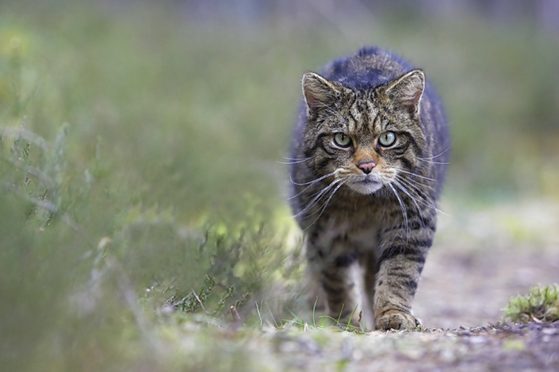 The largest survey of Scottish wildcats has been launched with an astonishing 300 cameras going live this week.
Scottish Wildcat Action's study will use motion-sensitive cameras to monitor cats living in parts of Scotland over a 60-day period, with more than 130 volunteers checking the cameras.
The survey focuses on five of the wildcat priority areas of Scotland, including Strathpeffer, Strathbogie, Strathavon, North Strathspey and the Angus Glens. Work will be continuing in Morvern later in the year.
The data gathered will help inform wildcat protection measures including an extensive neutering campaign to stop feral and pet cats from interbreeding with the endangered wildcats and passing disease on to them.
Dr Aileen McLeod, Minister for Environment, Climate Change and Land Reform, said: "This project will carry out important work to protect the future of the wildcat in Scotland. I look forward to seeing the images from these camera trials and finding out more about these fascinating animals.
"I would also like to thank all the volunteers involved in helping this project to take place and to cover so much wildcat territory."
Roo Campbell, the priority areas manager, said: "This is a significant step towards creating safer places for wildcats in Scotland. The winter survey will provide a huge source of information about what cats are out there, where they are and the degree of hybridisation between our native wildcat and the domestic cat.
"This is the first time a wildcat survey of this scale has been carried out and will be very important for assessing the current threats to wildcats."
The project would like to send an enormous thank you to all the dedicated volunteers who have given up their time to help gather this crucial intelligence. This impressive volunteer collaboration is supported by an award from the Heritage Lottery Fund.
The chief threat to the wildcat is continued interbreeding with domestic cats. Many wildcats in Scotland already contain some domestic cat ancestry and wildcats will continue to become less distinctive if this is left unchecked.
Scottish Wildcat Action is committed to reducing the risk of interbreeding between wildcats and domestic cats or obvious hybrids.
To find out more about the project and report sightings of any wild-living cats, please visit www.scottishwildcataction.org or contact your local project officer.