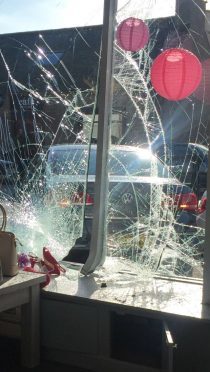 An Alness business has been left counting the cost after a car crashed into the front of their High Street shop.
The incident happened at the Victoriana clothing store on Alness High Street just before 11.45am yesterday.
Neither the driver, who is understood to be a man in his 80s, or anybody in the shop was injured.
However, the shop was extensively damaged in the incident.
It is understood that the car hit a couple of other vehicles parked in the area before reversing into the shop front.
Shop owner and Alness councillor Carolyn Wilson, who was not present at the time of the accident, said that joiners had had to be called to try and make the building secure with staff unable to close the door.
She said: "The gentleman has reversed the car into the shop window and there's quite a bit of damage.
"There was quite a lot of people in the High Street who witnessed what happened and we are just very grateful that nobody has been hurt.
"Our staff managed the situation very well
She described the shop front as "completely wrecked" with the window broken and brickwork pushed inwards by the force of the car hitting the building.
The joiners were yesterday working to make the building safe and secure.
The repairs are expected to be carried out from the driver's insurance with the repair bill likely to be expensive.
Mrs Wilson, who has been running the clothing business for two years, said: "There's a lot of damage, we're going to need a whole new shop front.
"It's quite a dramatic thing to happen. One of our staff was quite near the window when it happened an she got quite a fright."
A spokesman for the police confirmed that officers had attended after the crash was reported to them at 11.42am, adding that inquiries were ongoing into the incident.