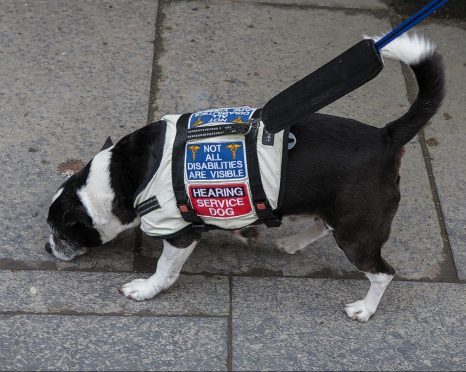 A woman told a north court yesterday of how her hopes of a new life in idyllic setting in the Highlands were dashed after her husband's personality changed.
Marie Islam said that Konstanty Bembnista wanted to control everything and would lose his temper over trivial things and lash out at her.
Ms Islam referred to one horrifying incident in which he beat her while their two dogs became hysterical and began biting her legs after which she required medical treatment and a tetanus jag.
Profoundly deaf Bembnista, 68 – who has his hearing dog Rambo in the dock with him – denies on indictment a series of assaults on Ms Islam at their then home at Kylburn Cottage, near the village of Lybster. One of the charges allege that Bembnista pulled her from a car there, to her injury. He also pleaded not guilty to stalking her in Edinburgh and threatening her and repeatedly phoning her. The incidents are alleged to have occurred between June 1991 and July 2013.
Mrs Aslam, giving evidence over a video link to Wick Sheriff Court on the opening day of the trial, told the jury how she had moved north with Bembnista in September 1991 to "a beautiful place" with "an incredible rural view". She had met the accused when he and his wife had befriended her and took her in following difficulties she had had with her family.
He left his wife and the pair married and later moved to Caithness.
Mrs Islam described how things deteriorated between them after about 18 months.
Mrs Islam went on: "It was then I started to notice that everything was about him" and went on to tell the jury how their relationship began to go downhill.
She said: "Bembnista had a short fuse and would get angry very quickly over trivial things. Later he would become very aggressive with me and our two dogs, for no reason."
Mrs Islam told the court of an incident in which Bambnista hit her with a cigarette box when she was phoning her mother, who had Alzheimers, after her father had died.
She continued: "He took the cigarette box and hit me over the head with it and started beating me on the side of my head and back. He was standing over me in the sitting room…the dogs were eating my legs.. I moved down the hallway to try to get away from him but he kept on beating me until he became tired and then walked out into the garden, leaving me where I was on the floor."
Mrs Islam said she managed to get into the bathroom to clean herself up because "there was lots of blood".
The trial continues.