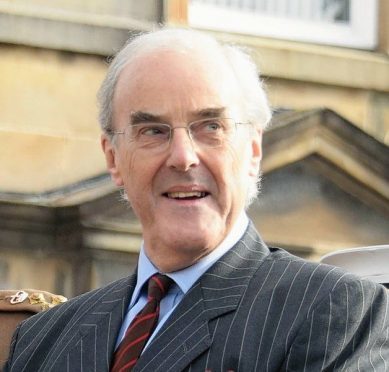 A former Sheriff and Queen's official appeared in the Highland court he used to preside over yesterday to admit drink driving.
As Deputy Lord Lieutenant of Inverness-shire, Richard Sidgwick was expected to be available to be involved in royal visits and undertakes official duties at local civic and community events.
The 72-year-old was also an Honorary Sheriff and Justice of the Peace at Fort William Sheriff Court in Lochaber before he retired.
But yesterday, Sidgwick, from Achnacarry near Spean Bridge, was in the dock as he admitted driving at almost three times the legal alcohol limit after his son went to the police.
And it was last night confirmed that he had tendered his resignation and was no longer a Deputy Lord Lieutenant.
Sidgwick pleaded guilty to driving his Land Rover Discovery with a personalised plate and Sheriff Jim Scott fined him £300 and banned him from driving for a year.
Sidgwick admitted driving on the B8005 road at Achnacarry, Spean Bridge and elsewhere on May 11 with a breath-alcohol count of 60. The legal limit is 22.
He was originally charged with a reading of 110, but the Crown accepted his plea to the lower figure after hearing he had consumed further alcohol at home.
Sidgwick denied failing to identify the driver of the vehicle to police.
He also denied possessing a knife at Fort William police station on the same date.
Fiscal Alison Wylie accepted his not guilty pleas to these charges.
She said: "It was his wife who spoke to her son and the son who contacted the police because, when he came home at about 8pm, it was perfectly clear to his wife that he had been drinking."
She added that the police were contacted because his wife had reached "the end of her tether".
"Having come home with the car just before 8pm, he went back out again for a short period because his dogs hadn't come home.
"When the police were contacted, he was at home and alcohol had been consumed in the house since his return," said the fiscal.
Defence solicitor Hamish Melrose explained that Sidgwick's wife had been concerned about the level of his drinking around that time.
He added that immediately after the incident Sidgwick acknowledged he had a problem and attended Castle Craig Hospital in Peeblesshire for addiction treatment.
Mr Melrose said: "He is being treated for depression and alcoholism and he has latterly identified the problem as starting approximately 10 years ago when he retired prematurely on health grounds."
He explained that Sidgwick retired as a senior partner in a local surveyors firm and West Highland Estates office, but was still involved in property management.
The defence solicitor said: "On this occasion, he had been to a meeting some distance away in Badenoch and was on his way home, arriving just after 7pm.
"Before exiting his vehicle, he consumed spirits, went into the house briefly. More alcohol was consumed and it was quickly drawn to his attention by his wife that his two dogs had escaped."
He said his client only drove about one mile on a remote single track road.
He did not find the dogs and it was later discovered that they had destroyed a number of chickens at a neighbouring property.
Mr Melrose said the police arrived at around 9.50pm, by which time his client had consumed more alcohol.
He pointed out that losing his licence would cause difficulties for Sidgwick as he was still chairman of a family property company and continued to attend at Castle Craig and elsewhere for treatment.
After the hearing, Sidgwick denied that appearing in the dock in his old court had been an awkward experience for him.
He said: "I feel pretty neutral about it.
"At my age, one ceases to be embarrassed about anything."
A spokesman for the Inverness Lieutenancy said: "Richard Sidgwick tendered his resignation to the Lord Lieutenant some time ago and it was accepted by him."