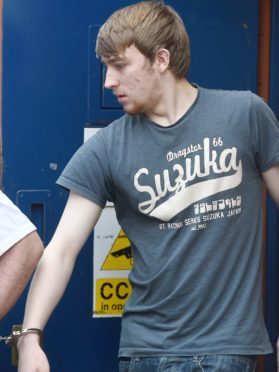 A teenager and his two young passengers survived a spectacular crash after a six-mile-long police chase on north roads.
Kyle Mackay, 19, who had no full driving licence or insurance, hit speeds of up to 110mph as he was pursued towards Dingwall.
Inverness Sheriff Court, however, heard he had failed to outrun a police pursuit vehicle, after losing control of his father's van as it approached a roundabout at high speed.
Mackay crashed through a bush and two small trees, narrowly missing two larger ones, before coming to a halt in the middle of the roundabout on February 3 this year.
The court was told it had been near "miraculous" that no-one had been seriously injured.
The teenager, from Shell Bay in John O'Groats, appeared from custody at the court yesterday to admit driving dangerously without a full licence or insurance.
Mackay also pleaded guilty to culpable and reckless conduct by carrying a passenger in the rear of the van without wearing a seat belt – or even having a seat.
Sheriff Gordon Fleetwood sentenced him to detention for six months and banned him from driving for three years.
He told the Caithness farm worker: "I find it impossible to consider anything else other than a sentence of detention.
"It is bad enough that you put yourself and other road users in danger, but you endangered people that you knew. This was appalling behaviour."
Mackay was also ordered to re-sit his test before driving again.
Fiscal depute Anna Chisholm told the court that police saw the van being driven towards the Tore roundabout "erratically and at excessive speed."
She added: "His speed increased to over 100mph and he took the turn-off towards Dingwall along the A835, overtaking two vehicles.
"He then overtook another nine vehicles, despite there being nine junctions, drove in chevron areas and on the wrong side of the carriageway at speeds of between 100mph and 110mph."
Miss Chisholm said that after the crash, one of his two passengers was found lying unrestrained on the floor at the rear of the van and didn't have a seat.
Defence solicitor Patrick O'Dea said: "Miraculously no-one was seriously injured. He is extremely lucky that something terrible didn't happen.
"There is little I can say by way of mitigation. This was atrocious driving and he realises that now.
"He struggles to explain why he tried to get away from police other than to say it was panic."
Mackay will appear at Wick Sheriff Court later this week to face more road traffic charges.