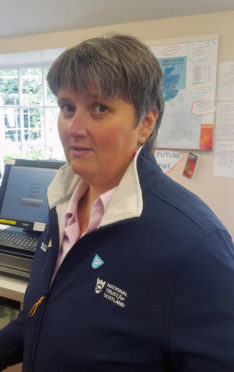 A well-known north couple killed when their car plunged 100ft into a Highland loch were last night described as "lovely people" by shocked locals.
Kenneth McCrimmon, known as Ross, and Rose Bassett were returning home after a visit to family in Ullapool when the accident happened on Monday afternoon.
The couple, both in their 40s, worked at the world-famous Inverewe Garden and lived in the Poolewe area.
But their journey home turned to tragedy when the red Honda they were in disappeared into Little Loch Broom near Ardessie.
The crash was seen by local fish farm workers, who alerted the emergency services, prompting a major rescue operation.
But despite all efforts to save them, police confirmed yesterday that no-one had survived the catastrophic crash.
Ullapool butcher David Gordon, who knew the couple and spoke to Miss Bassett the day of the crash, said: "They were customers for many years. I am totally shocked when I heard it was them. I had just spoken to her (Rose) a couple of hours before. It's tragic. He was a lovely guy."
Another local resident, who did not wish to be named, said: "They were lovely people. It's all very raw. It's heartbreaking."
Mr McCrimmon, 44, was described as a volunteer at Inverewe Garden while Miss Bassett, 48, worked in visitor services.
The garden is famous for its rare species and is run by the National Trust for Scotland (NTS).
Carol-Ann Boyter, Head of People at NTS, said: "We are deeply saddened by this tragic news. Rose and Ross both contributed a huge amount to Inverewe Garden over the years. We are working to support their colleagues at this difficult time and send sincere condolences to their families."
The Honda Civic was winched from rocks at the scene and was semi-submerged at the time of the recovery.
Loch Ewe, Ullapool and Gairloch coastguard rescue teams, Lochinver Lifeboat, six appliances from the Scottish Fire and Rescue Service were all sent to the scene after the accident was reported.
Yesterday James Conniff, 22, a barman at the Poolewe Hotel, said the couple were in the process of either moving to nearby Aultbea or staff accommodation at Inverewe Gardens, where they worked.
He added: "They have been together for some time, about 20 years or so. It is very sad what has happened. People are just stunned – it's a small community and everybody knows everybody.
"It really is a tragic thing. They have both been in the bar regularly over the years – they always seemed happy.
"Everybody is just trying to take it in. It is so sad all round."
The road was closed for around six hours after the incident and has now reopened.
Road Policing Sergeant Gregor Hay said: "Our thoughts are with the family of the two people who have died at this sad time. Inquiries into this incident remain ongoing and we would ask that anyone who witnessed the collision or who saw a red Honda Civic travelling in the area at the time contact police."