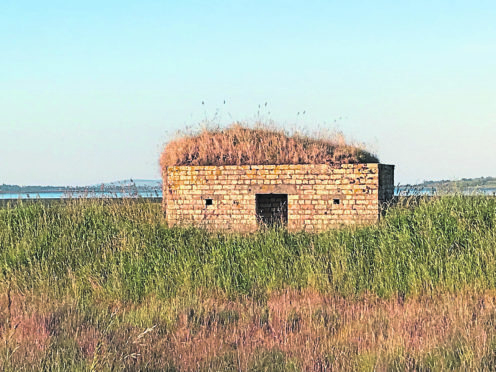 Hot weather has given this old hut an uncanny resemblance – to US president Donald Trump.
Alan Ross, 43, first spotted the small brick building, with grass growing on the roof, while walking in the Highlands last year.
But he was stunned to see lack of rain in the heatwave had turned its hair the same distinctive shade as President Trump's.
Last night Alan, a draughtsman of Alness, Ross-shire, said: 'We first saw it about last November and myself and my wife joked about it looking like Donald Trump. But last night we were walking my son's dog there and the grass is brown with the hot weather now – so it looks even more like him.'
The uninhabited one-storey structure, believed to be an old military building, developed a green thatch above two tiny windows after falling into disrepair.
Alan, married to Christina, 42, added: 'Every time I look at it, I see Donald Trump. It's uncanny.'
He has tweeted the picture to the US president but added: 'I'm not expecting a reply.'
The Highland building, on the coast near the Skiach Services in Ross-shire, is the latest lookalike building – after a converted church that looks like a chicken, a house that looks like comedian Alan Carr and another which resembles Hitler.