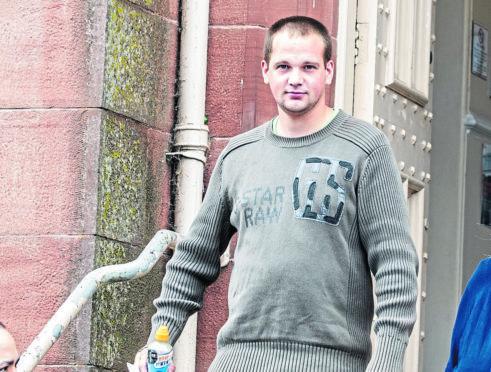 An Easter Ross man yesterday avoided a mandatory five-year prison sentence for possessing a "decrepit" stun gun disguised as a mobile phone.
Jamie Muir, 25, admitted the firearms offence last month – an offence that could have attracted the minimum sentence.
But Muir's defence that the weapon was held together with sticky tape, not fully charged and intended only as a "novelty piece" kept him out of jail yesterday.
His solicitor advocate Shahid Latif persuaded Sheriff Eilidh Macdonald that there were exceptional circumstances in his client's case.
Sheriff Macdonald said: "After hearing from Mr Latif and reading the background report on you, I find that there are exceptional circumstances here.
"But this is a very serious offence and there is a reason there is a minimum sentence. However I can deal this with the imposition of a community payback order."
Muir, of Burnside, Alness, was told he must complete 240 hours of unpaid community work as an alternative to prison.
He said afterwards that he was grateful to his lawyer for keeping him out of jail. adding: "I am delighted."
Inverness Sheriff Court was told by fiscal depute David Morton yesterday that the stun gun was intermittently functional, but did not have a charge which could produce a disabling effect.
Mr Latif then argued that there were several reasons why his client should not be jailed for five years. However he conceded that he was not necessarily arguing that a jail sentence should not be imposed.
Mr Latif explained that the stun gun, which Muir had received as a debt repayment, had been thrown into a bedside cabinet with other junk three years ago.
"He was unaware of what he was doing or that it was illegal. It was decrepit and held together with Sellotape. It was not charged, and no charger was ever recovered.
"There was no malignant intent of using it, it was never in a public place, never deployed nor was there an intention to sell it and that it would fall into the wrong hands.
"He took it as a novelty piece."
Mr Latif added that although his client had previous convictions, his last was in 2012.
"He has turned his life and his lifestyle around and there are no ongoing public protection issues. I am not saying he should not be jailed, just not for five years. That would be disproportionate."