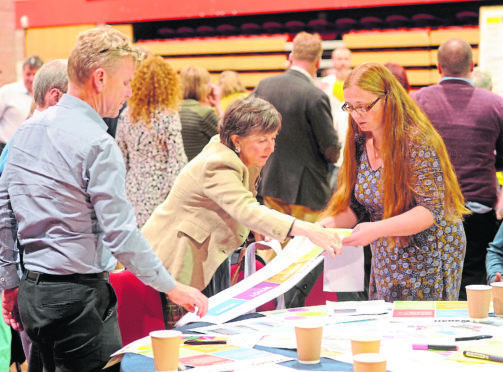 A senior council officer has said he would "hate to think" people didn't feel included in plans for Fort William 2040, after community leaders said too few voices will be heard in planning process.
A planning meeting bringing together members of the community and the public, private and social sectors, was "intimidating", a community council complained.
Christine Hutchison, chairwoman of Kilmallie Community Council, said: "I was disappointed at the few numbers of community people at the planning day for Fort William 2040 in the same group, at the same table and on the same table was one person from Fort William Community Council, five people from developers Bidwells and two from smelter owners Liberty.
Fort William set for its 'biggest ever' change as ambitious 2040 vision is unveiled
Calling the planning meeting "somewhat intimidating", community councillor Mandy Ketchen continued: "If that sort of makeup was replicated on all the tables attending, then the community was outnumbered by three to 10 at every table.
"We are now not going to be able to feedback to any of the other meetings the council is having with partners, are we are just not able to talk or have not been invited to them."
Scott Dalgarno, Highland Council development plans manager, said: "The Fort William 2040 event was a great day to which we got great feedback from a broad range of people. We are now preparing that feedback for the Scottish Government.
Fort William asked to look to the future for 2040 consultation masterplan
"I would hate to think that anyone felt they were not listened to. It will take everyone getting involved for the plans to be the very best, the most robust that they can be."
A spokeswoman for Highland Council said: "We can give the reassurance that lots more engagement will happen as everyone involved in the project wants local people, businesses and interest groups and public agencies to work together in finalising this masterplan, and agree how and when future development can be delivered."