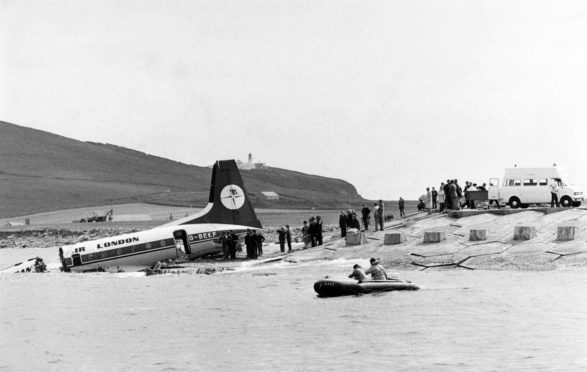 Families will remember the lives of 17 men today, 40 years after they were killed in a devastating plane crash off Shetland.
Dozens more were injured when Dan Air flight 0034 failed to take off at Sumburgh Airport on July 31, 1979.
The plane been chartered by Shell to take 44 oil workers back home to Aberdeen but a mechanical problem prevented it from becoming airborne.
The Hawker Sidderly aircraft instead hit a wave breaker below the runway, violently breaking in two.
As it rapidly filled with water and sunk below the surface, its passengers and three crew members all scrambled to escape the wreckage.
Some were able to swim through the icy waters to shore, while others were rescued by the helicopters and boats which quickly assembled at the scene.
Pilot Chris Watson was seen on the plane's wing after rescuing a passenger from within. But he drowned after going back inside in search of others to help.
His widow, Liz Beeley, recalled that she "completely collapsed" after learning of his death, and still feels the impact of it today.
Now 70 years old, she lives in Laurencekirk with her second husband Alistair and has said it is vital the events of that day are not forgotten.
"It was the first fixed-wing crash in the area, and possibly in the industry," she added.
"The rest would have been helicopter crashes but something like this was very rare.
"I just think everyone who was involved needs to be recognised."
Mrs Beeley said: "I think about my late husband on the regular basis, and the fact that he got out of the aircraft and helped people but unfortunately went down with it.
"That hurts but he never would have lived with himself it he hadn't gone back to try and help."
In 2013 a memorial was unveiled at Sumburgh Airport in memory of 79 men who died in four aircraft accidents.
The horseshow-shaped structure was dedicated to those killed in the 1979 Dan Air tragedy, 1986 Chinook Helicopter crash, and incidents on Brent Spar in 1990 and Cormorant Alpha on 1992.
Survivors' terror as they fled sinking wreckage
Survivors of the crash recalled the freezing water flooding into the cabin with such force that, "within 30 seconds," it was up to their necks.
Others spoke of their shock at seeing people "getting trampled" in the rush to escape the mangled wreckage.
The day after the disaster, 18 of those who made it back to shore were flown to Aberdeen so they could continue their journeys home.
As they exited the plane some were seen wearing British Airways overalls as the petrol and oil had destroyed their clothing while they were in the water.
Many others were spotted holding their belongings in small black plastic bags.
Officials held a brief press conference on the tarmac, allowing some of the "obviously distressed" passengers to speak to the media.
Some of the survivors step on to the tarmac at Aberdeen Airport.William Crombie, a 31-year-old welder and father-of-five from Lossiemouth, said: "The worst part was we had plenty time to realise what was happening to us.
"I put my hand under my seat for my lifejacket when suddenly somebody opened the door of the plan and water started to pour in."
Meanwhile Elgin man William Lees, 47, said: "For about 30 seconds we were only ankle-deep in water.
"Then within the next 30 seconds the water was up to our necks.
"My first thought was obviously to get out of the plan. I didn't even bother reached for my lifejacket, I just got out and swam.
"The shore seemed miles away but I was determined to make it."
Joseph Mackinnon, 30, told reporters that the crash had not been his first brush with death – having been a passenger on a Heathrow Airport bus which collided with an aeroplane wing just weeks previously.
The Northumberland native said: "Nobody was injured in that accident, but this sort of thing has not put me off.
"I'll be back on the rigs again after my week onshore."
Assistant driller Sandy Nicoll from Montrose remembered the "instant panic" among passengers in the moments after the crash.
"I put on a lifejacket then helped about a dozen people to get out through the emergency exit at the back of the plane," he said.
"I had to get out myself when the water reached the ceiling."
He added: "The stewardess was trying to calm people down but she was getting trampled in the rush.
"I put my head under the water and dived through the door. When I broke surface outside there were lots of people thrashing about in the water.
"I managed to get to the stewardess and swam with her to the shore where we were quickly picked up and taken care of."
Wives' anxious wait for news on crash
There were tearful reunions as stunned survivors were greeted by loved ones when they arrived back in Aberdeen.
Most family members and friends only became aware of the crash in radio news bulletins hours afterwards, with some first learning of it when reading the front page of The Press and Journal the following day.
Marilyn Leitch spent "hours" anxiously phoning the authorities in Shetland, desperate for information about her husband, shift supervisor Dick.
She said: "It was a great relief when I discovered he was alive. A tremendous relief."
Pamela Hutson had been sitting in the airport terminal for two hours, waiting for her husband Michael, when her neighbours arrived to break the news.
"The plane was due in about six o'clock, he thought, and when there was no sign of it and no news at the airport of anything I began to worry," she recalled.
"When my neighbours arrived I knew immediately something was wrong.
"I was extremely upset until he phoned me from the hospital and said he was all right apart from bruising and a bad gash on the leg.
"He had managed to get out of the aircraft himself and swim ashore."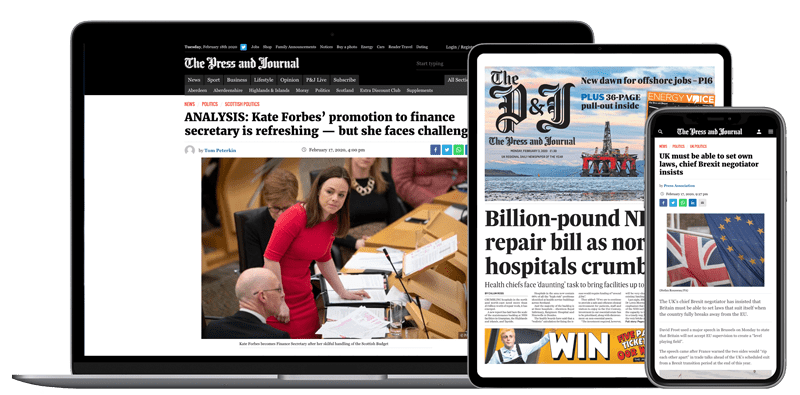 Help support quality local journalism … become a digital subscriber to The Press and Journal
For as little as £5.99 a month you can access all of our content, including Premium articles.
Subscribe