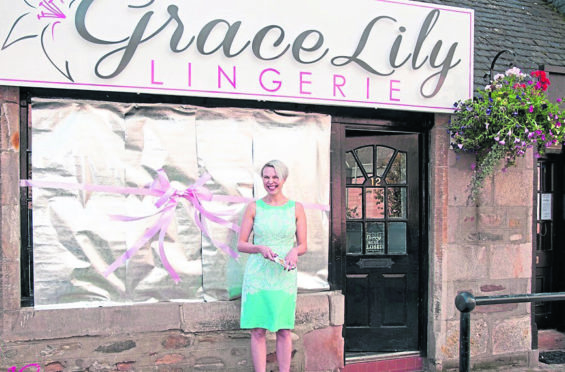 A lingerie shop owner has won a legal battle with an American television network who tried to stop her putting on a fashion show in the Highlands.
Grace Hay, 34, was left stunned when New York-based Fashion One Television objected to her registering a trademark called 'Highland Fashion Week'.
The businesswoman, who runs Grace Lily Lingerie in Nairn, applied for the trademark to market a community event she was planning in the local area.
The US firm, who operate a number of fashion-based digital TV channels which are broadcast around the world, already own a trademark called Fashion Week.
They said Miss Hay's trademark was too similar to their own and would confuse customers.
Following a three-year battle, the case has now been decided by the UK Intellectual Property Office, who rule on trademark disputes.
They said Miss Hay should be allowed the trademark after ruling consumers were unlikely to confuse hers with the one owned by Fashion One.
Miss Hay said: "I couldn't believe it when we were told this company was trying to stop us getting the trademark.
"It did seem very heavy handed for them to come after us."
Highland Fashion Week was run in 2015 under a different organiser and Miss Hay now hopes to relaunch the event.
She added: "This has been going on for three years and I have been unable to launch the event without the trademark.
"I am very excited that it has went in our favour because I didn't think we would win the case.
"It's a huge weight off my shoulders and will allow me to press ahead with my plans for the fashion week."
Fashion One Television is the owner and operator of fashion and lifestyle television networks Fashion One, Fashion First, Fashion Uno and Fashion 4K and claims to have a total viewership of more than 400 million households on five continents.
Issuing her ruling in the case, trademark hearing officer Louise White said: "It is considered that both marks refer to a week-long event in relation to fashion, the later trade mark informing that this is geographically limited to a Highland area.
"The addition of this word in the later trade mark adds a geographical context, that is, a week long fashion event taking place in the Highlands. This is not a clear conceptual gap, but it does have an impact.
"Together with the above average degree of attention expected to be displayed during the purchasing process, I am more than satisfied that a consumer will not mistake one trademark for the other. There is no likelihood of direct confusion.
"Even if the later trademark brought the earlier trade mark to mind (which is considered doubtful) this is mere association and not confusion."
Fashion One were approached for comment.