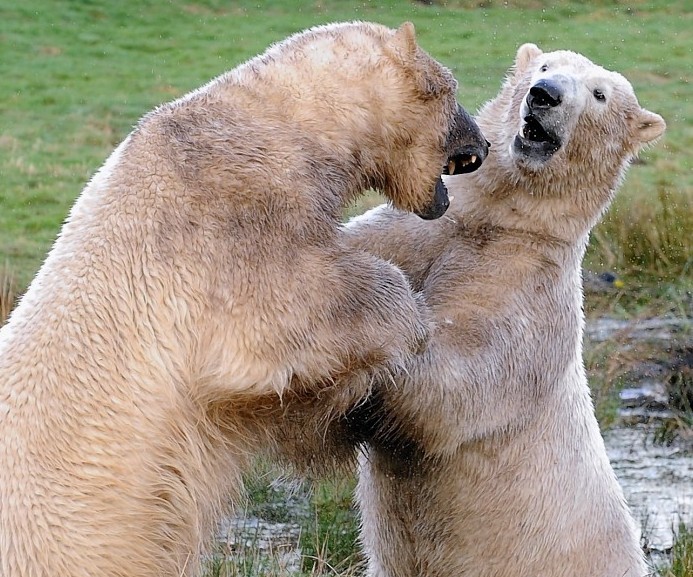 The north's resident polar bears enjoyed a joint birthday party yesterday.
The two male bears, Walker and Arktos, chomped into ice cakes made by keepers at the Highland Wildlife Park near Aviemore.
These were filled with some of the bears' favourite treats including sardines, carrots, apples and nuts.
The two bears were born on days close together but one year apart, with Arktos turning seven on November 30 and Walker turning six on December 7.
The ice cakes were attached to ropes and tied to trees within the bears' six acre enclosure, giving the animals plenty of fun pulling them down and powerfully pouncing on them to break the ice.
This type of behaviour is seen in wild polar bears when they break through the ice to get to seals in their native Arctic habitat.
Walker and Arktos are the only polar bears in a public collection in Scotland and a female polar bear will be joining the Highland Wildlife Park collection in spring 2015 with the hope of new additions.
Una Richardson, head carnivore keeper for the Highland Wildlife Park, said: "The boys have been firm friends since Arktos arrived at the park in April 2012 and it is easy to see why they are one of our visitors' favourite animals. From their cars in the main reserve drive through or on foot from the top of the enclosure, visitors can watch as them tumble and play together in their large pool.
"At the daily polar bear talk at 1.15pm at the top of the hill, they can see the bears up close when they are given their afternoon snack."
She added that the talk can also give visitors the chance to find out more about polar bears as ambassadors for climate change, the threats they currently face in the wild and what can be done to help.
Polar bears are the largest living land carnivore and can reach up to 11ft tall when standing on their hind legs.
Under their fur, the beasts have black skin and their long, non-retractable claws dig into the ice when they walk.
The bears are also excellent swimmers and have a powerful sense of smell that can detect prey more than 1,000 yards away.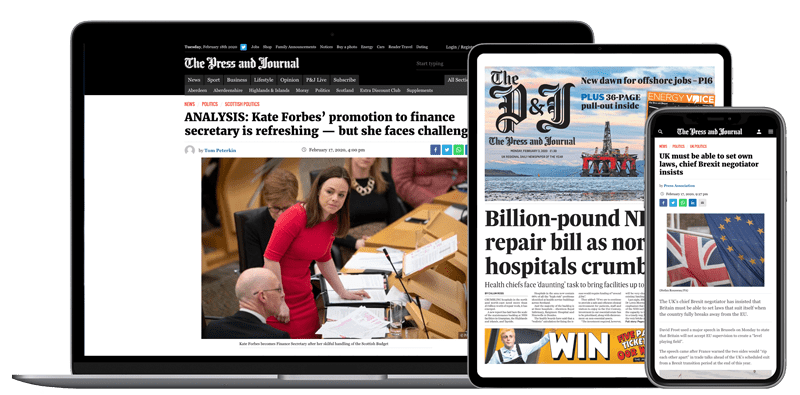 Help support quality local journalism … become a digital subscriber to The Press and Journal
For as little as £5.99 a month you can access all of our content, including Premium articles.
Subscribe