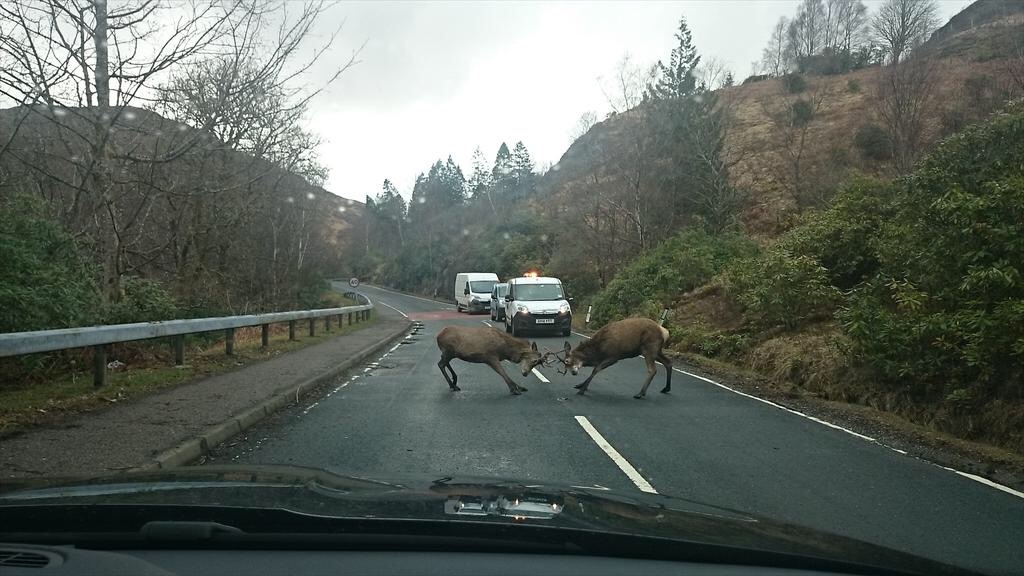 This image of a pair of deer fighting in the middle of the road appears to epitomise the wildness of the Highlands.
Traffic was forced to a standstill by the sight of the pair of stags locking antlers.
But the two magnificent beasts may actually be the victims of litter louts.
One witness to the tussle at Glenfinnan – in the middle of the A830 Road to the Isles – said the red deer stags were tangled together by a rope wrapped around one of the animals' antlers.
Eventually they managed to free themselves, and ran off in opposite directions.
Motorist John Gibb took the snap on when he was forced to stop as he was confronted by the sight of the deer on the road.
He posted the image on social media, prompting thousands of comments.
But motorist Sue Grant, who got the scene a few minutes after the photograph was taken, said that it was "not normal behaviour" for the stags, which have their rutting season in the autumn.
She said: "The reason they did not run and were so frantic is that one of them had a large piece of rope tangled on its antlers and had entangled the other stag with it.
"I stopped my car wondering what was going on, as this is not normal behaviour.
"When they became disentangled one ran left and the other – still with rope on its antlers – ran right.
"It's so sad that humans leave their rubbish around to endanger these wonderful creatures."
As deer lose their antlers, it is likely the stag will be able to shed the rope in the next few weeks.
Last night Gus Jones, of the Badenoch and Strathspey Conservation Group, said it was not entirely unusual for stags to be aggressive out of season.
But he said deer often did get tangled in rope and fences.
Mr Jones said: "It may be that they have interlocked their antlers.
"It might be that it is an aggressive interaction between two red deer stags, which is unusual at this time of year."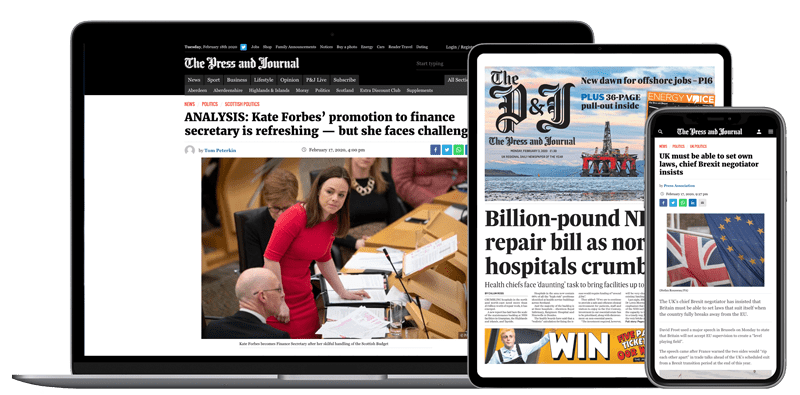 Help support quality local journalism … become a digital subscriber to The Press and Journal
For as little as £5.99 a month you can access all of our content, including Premium articles.
Subscribe