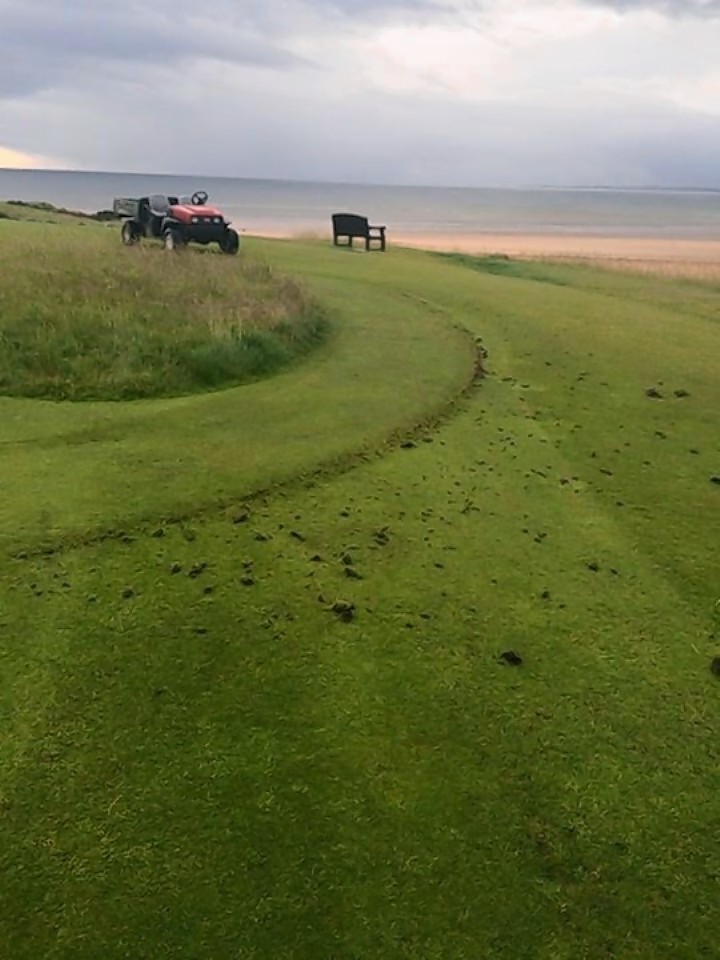 This image shows the damage caused by a motorist who appears to have deliberately driven onto a green on a world renowned Highland golf course.
Police are investigating are parts of the 16th green at Royal Dornoch Golf Club have been spoiled following the incident, which took place some time between 10pm on Friday and 7am on Saturday.
The tyre marks appear to be from a four-wheeled vehicle, and it is believed it would have driven up to the elevated green from the beach car park below and circled the green twice before fleeing.
Greenkeepers have been able to smooth out the green to make it playable, and the marks are expected to be fully repaired within the next two to three weeks.
Neil Hampton, general manager at Royal Dornoch Golf Club, said: "We are very disappointed that someone would be doing this to part of a renowned golf course which is such an important part of Dornoch and Sutherland. It doesn't just affect members of the club but everyone in the area.
"We are confident we can repair it so that the marks disappear completely. Play can continue on the green while this happens and if the weather stays as it is just now this should help the grass grow back very quickly.
"We hope whoever did this can be found. If anyone has any information then it would be great if they could come forward."
Willie Melville, of Dornoch Community Council, added: "I think it is disgraceful really. Hopefully the police will catch the culprits and keep an eye on things.
"I can not see any point in putting up a barrier because they could easily come in from another angle, and it would be unsightly."
Police are urging anyone who witnessed any suspicious behaviour, or has any information, to contact them on 101.