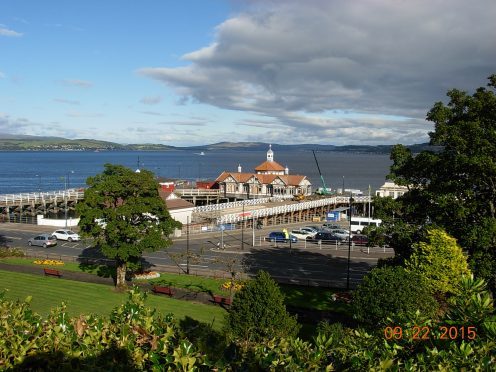 A derelict Victorian-era wooden pier has been brought back to life after an investment by the local authority.
Argyll and Bute Council has spent £2.83million making structural repairs and refurbishing buildings on Dunoon Pier.
The original pier was built in 1835, but the current structure dates back to 1895.
Before the late 1960s, fleets of paddle steamers brought holidaymakers from Glasgow to it and numerous other piers on the Clyde Estuary.
And until June 2011 the pier was used daily by CalMac, which ran a regular car ferry service to Gourock and by the PS Waverley, the last surviving seagoing paddle steamer.
Leader of Argyll and Bute Council, Dunoon-based Councillor Dick Walsh, said: "It is really pleasing to see this project approaching the finish line.
"As probably the best remaining example of a Victorian-era wooden pier in the country, the first phase of the refurbishment of Dunoon Pier is a flagship project for the council.
"The refurbished waiting room will be available for hire for events, conferences and meetings. In fact, we are so pleased with it we are looking to use it for area committee meetings.
"We will be holding an official opening event ahead of the first area committee meeting in the building.
"Beyond this work, we are eager to lobby for further funding at national level to fulfil our long-term ambitions for both the pier and its buildings – bringing all the pier buildings back into viable economic use and securing the pier head.
"We are fully committed to exploring any and all opportunities to preserve this iconic structure for future generations."
More than 150 timber piles in the pier have been inspected, with 68 being replaced and a further nine encapsulated.
Major work was required to save the waiting room, including the rebuild of the west shore face, with 15 new windows installed and scallop-shaped shingles applied to match the original features.
The works to the buildings are being co-funded by the Scottish Government through its Regeneration Capital Grant Fund, with £350,000 awarded.