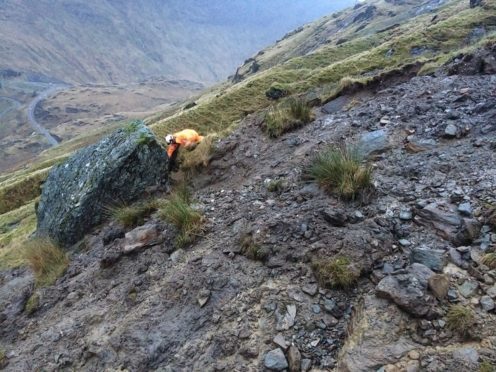 A main trunk road in Argyll was closed again last night, meaning a lengthy 50-mile detour for motorists.
The A83 Tarbet to Campbeltown route was shut due to a 150 tonne boulder sitting precariously 575ft above the road at the Rest and Be Thankful.
Now specialist teams are set to blast the massive 150-tonne boulder into oblivion, removing it from harms way.
A controlled explosion is set to take place later this morning.
The boulder was discovered on Monday as the hillside was inspected following a landslide on December 30.
The Old Military Road emergency diversion route along the A83 was in use during daylight hours as ground conditions around the boulder were monitored. But this work cannot safely take place in darkness and the emergency route was also closed.
Last night a 50-mile diversion via the A819 Inveraray to Dalmally road and the A82 Glasgow to Inverness road was in operation.
A spokesman for Bear Scotland said yesterday: "Good progress has been made and preparatory works should be completed today ready for works to make safe the boulder to take place tomorrow morning."
Jamie McGrigor, Highlands and Islands MSP, and Donald Cameron, Scottish Conservative Candidate for Argyll and Bute, are again calling on the Scottish Government to implement a permanent solution for the landslide-prone Rest and Be Thankful.
Mr McGrigor said: "While the landslide mitigation measures that have been put in place over the last few years are welcome and have helped prevent some closures, it seems increasingly clear that we need to see a permanent, long term solution put in place that keeps the road open.
"I am calling on Ministers to look again at a flow over canopy option on the most dangerous section of the Rest and Be Thankful."
A spokeswoman for Transport Scotland said: "The recent landslide at the Rest and Be Thankful was the result of extreme conditions.
"We are working tirelessly with our operating company and geotechnical experts to try to mitigate the effects of these events and the netting that has been installed has prevented debris from reaching the road on several occasions.
"More than £48 million has been invested in the A83 since 2007. This includes £9 million towards reducing the risk of impacts from landslides at the Rest and Be Thankful and the establishment of the local diversion route.
"As agreed at the last A83 Taskforce meeting, the group will reconvene in the coming weeks when the impact of Storm Frank, the continued work of the group and its next steps will be discussed."