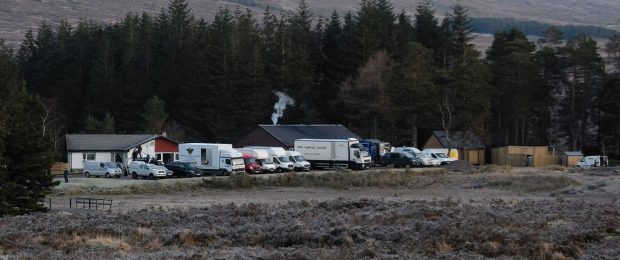 Like bringing coals to Newcastle in case they had run out, it is something you would never have predicted was necessary.
But yesterday, a film crew in Glencoe was forced to use a rain machine because the West Highlands was too dry for them.
Despite the area being notorious for rain, the television company had to create their own weather when filming an advertisement.
Glasgow-based MTP Production Company made use of the famous Highland beauty spot to film a new ident which will be shown between programmes later in the year on Channel 5.
The shoot called for rain – but when the team arrived yesterday morning, they were met with crystal clear skies and fresh snow on the hills.
To imitate the conditions more commonly found in Glencoe, the team were forced to use a rain machine while filming.
The crew had carried out several scouting trips to Glencoe in the weeks leading up to the shoot and had always found the wanted inclement weather.
Details of the short clip are limited but the shoot involved use of the A82 Glasgow to Inverness road.
The crew used the Kings House Hotel at the southern end of the glen as a base, with the shoot taking place between the turn off for Glen Etive and the Clachaig Inn.
A spokeswoman for MTP said: "We're filming an ident for Channel 5, it's a very short film and there's not much more to it.
"We were in Glasgow yesterday filming (Thursday) and we're delighted to be here today."
Permission was granted by Transport Scotland to close the busy road three times an hour yesterday for the shoot.
However, there were no serious delays as the filming was carried out on the move with police creating a rolling road block.
The decision to grant closure of the road sparked anger among Lochaber road campaigners who claimed not to have been notified.
Councillor Brian Murphy, chairman of the A82 Partnership said Transport Scotland had been "dictatorial and highhanded" in their approach.
However, the transport agency said the partnership and other agencies had been given notice and said the filming would showcase the "spectacular scenery"
Glencoe has been used regularly for filming, famously appearing in the Harry Potter movies and James Bond film Skyfall.