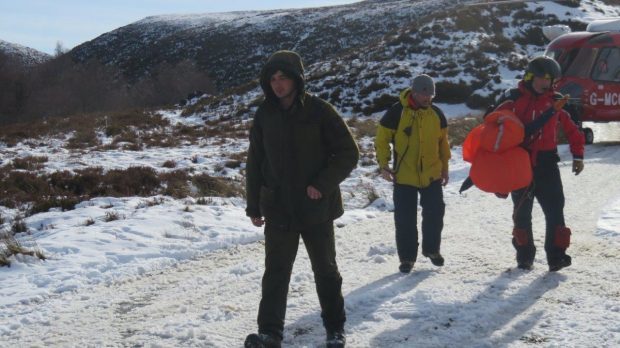 A young gamekeeper survived a dramatic night camped in freezing conditions in the remote southern Cairngorms after getting lost in a blizzard.
A major search operation was launched after Josh Wilkinson became disorientated in thick fog and snow which closed in after he set off on a routine job near Glen Feshie.
He was eventually found – 18 hours after the alarm was raised – nearly 10 miles off course and close to the Aberdeenshire border and the neighbouring estate of Mar Lodge.
The 22-year-old had been left stranded about 3,000ft above sea level after his snowmobile broke down in a remote area on Carn an Fhidhleir.
He had taken a wrong turn – and headed away from safety.
Last night, he told the Press and Journal: "It's at lonely times like this you fully understand the privilege of having such a competent and friendly rescue team."
He had set off from Gaick Lodge, part of a large area of land east of Kingussie owned by Danish billionaire Anders Holch Povlsen's company Wildland Ltd.
Yesterday, bosses at the estate praised Mr Wilkinson's level-headed thinking after he used a survival kit to bivouac overnight after becoming stranded when his vehicle broke down.
Dozens of volunteers from Cairngorm, Tayside, Braemar and the RAF mountain rescue teams battled blizzards and treacherous avalanche conditions to search until 3am.
Cairngorm team leader Willie Anderson said searchers had probably come within 1,300ft of the stranded man but had been unable to spot him in the appalling weather.
The search was stood down but resumed again three hours later in better light.
Mr Wilkinson was then found safe and well around 9am by mountain rescuers before being helped to safety at the keeper's cottage at Gaick.
Thomas MacDonell, director of conservation for Wildland Ltd, was among the estate workers who joined the search for the young gamekeeper, who has only been working at the estate for a few weeks.
He said: "He had set off in good sunny conditions but the fog and bad weather came in very suddenly.
"He had tried to turn around 180 degrees but what seems to have happened is he has gone through pretty much 360 degrees which can happen in poor visibility."
He had continued to try and find his way back but was forced to stop when his snowmobile broke down."
Mr Wilkinson then sent a text to his bosses back at the estate buildings and set up a bivouac to shelter from the storm.
During the night search the coastguard helicopter Rescue 951 was called in from Inverness to join the search although it was beaten back by the weather.
Mr Wilkinson set off a distress flare from the survival pack when he heard the helicopter nearby although it was not spotted by the rescuers.
The helicopter was able to return to airlift rescue team members.
Mr MacDonell said: "We're just delighted that he is fine and well. He did absolutely the right thing to stay with the bike and take shelter.
"It's quite fortunate that the bikes carry the survival kits, without that it could have been a very different story.
"It was a really great effort by everyone involved in the search and we would thank them for that."
Mr Anderson, of Cairngorm MRT, described the area as one of the most remote covered by the team and said that it would have been very difficult to reach without the helicopter or the help of the estate staff with all-terrain vehicles.
Despite information from Mr Wilkinson the team had only been able initially to narrow-down the search area to more than 75 square miles.
Mr Anderson also praised the use of the survival kit which helped save the young man.
He said: "He had all the stuff with him and I think it's a really good policy by the estate which I believe they've introduced recently.
"You can travel a huge distance on one of these ski-doos."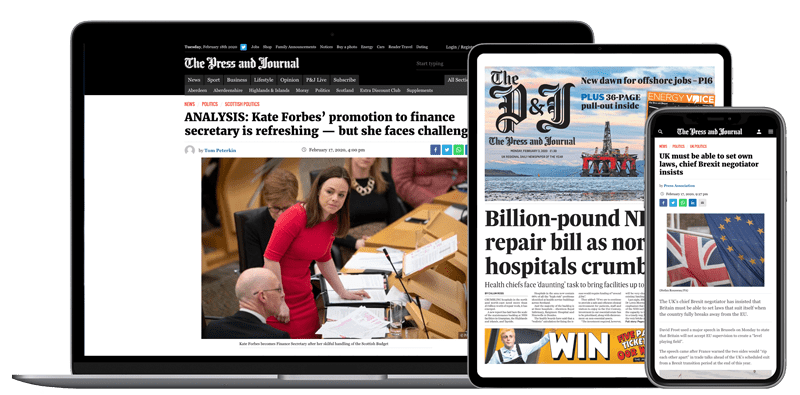 Help support quality local journalism … become a digital subscriber to The Press and Journal
For as little as £5.99 a month you can access all of our content, including Premium articles.
Subscribe