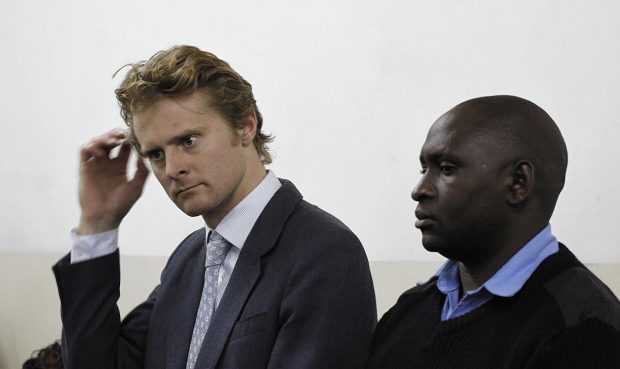 The Highland aristocrat's son charged with trafficking £3million of cocaine in Kenya was yesterday freed on bail.
Jack Marian – whose mother is Lady Emma Campbell of Cawdor, daughter of the late 6th Earl of Cawdor – was previously being held in police cells in Kenya after being remanded in custody during a court appearance last week.
The 31-year-old sugar trader was yesterday released on a bond of £530,000, with two Kenyan sureties of a similar amount.
A magistrate at Kibera Law Court in Nairobi ruled that the prosecution did not provide compelling reasons for him to be detained pending determination of his case.
The prosecution argued that he was a flight risk and that he would interfere with investigations.
Jack Marrian is managing director of Mshale Commodities Ltd, a subsidiary of the global trading company ED&F Man.
He was arrested after Kenyan police and US Drug Enforcement Administration agents impounded the drugs, weighing 220lb, on July 27 at Mombasa after they were found in a container allegedly carrying sugar to Uganda from Brazil.
His father artist David Marrian yesterday confirmed from Kenya that he did not wish to comment.
But he previously said his son was "incredibly distressed" and "pretty freaked out" by the situation.
He also said he knew his son was innocent and was convinced the "truth will come out".
The distraught father is reported to have said the sugar was being sent to his son's company, adding that the ship and the containers did not belong to him and he had not been involved in packing them.
He said: "The fact it is contaminated with cocaine has nothing to do with him."
And he told the Press and Journal: "You have no idea what I'm going through."
Lady Emma and David Marrian have two other sons, Hunter and Finlay.
Hugh Campbell, the 6th Earl of Cawdor, owned Cawdor Castle, near Nairn, famous for its links with Shakespeare's Macbeth.
He died in 1993 at the age of 60 leaving the imposing castle to his second wife Lady Angelika, Dowager Countess Cawdor, who runs it as a tourist attraction.