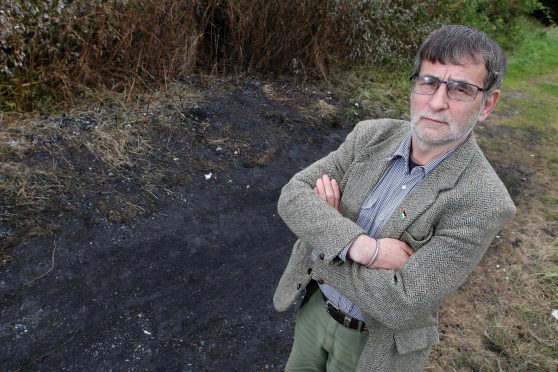 A caravan reportedly used by underage drinkers was destroyed by fire less than 48 hours after an Inverness councillor urged the local authority to tow it away.
No-one was hurt in the weekend blaze in South Kessock but local councillor Donnie Kerr was furious that the vehicle had not been removed.
Police confirmed yesterday that the caravan was at the spot, on rough ground near homes in Carnarc Crescent, for about a week. Officers, who are keen to hear from witnesses, are trying to establish who owned the caravan.
Mr Kerr said he had numerous calls from residents that the vehicle had been used by underage drinkers and that he registered his concerns with the council's housing department last Friday morning.
Shortly before 4am on Sunday, two fire crews were called out to extinguish a blaze that destroyed the vehicle.
"I knew that it would either be trashed and smashed or go on fire," Mr Kerr said. "What worried me was that some underage drinker might be in the midst of it.
"The police reacted very quickly. They went down and checked out the circumstances of the caravan and ensured there was no gas cyclinder. When it came to the council, they got caught up in too much paperwork and legislation.
"Our staff were seeking legal advice about what we could do whereas, as a local authority, we should have the powers to remove it where matters of public safety are concerned. It should have been done immediately.
"As far as I'm aware, a local had sold it to the kids who were doing their best to install it somewhere in West Field, no doubt as a drinking den. It's been the focus of antisocial behaviour."
Yesterday, there was only scorched ground at the spot where the caravan was previously parked.
A spokeswoman for the council said: "It's unfortunate that local residents were affected.
"We continue to work in partnership with Police Scotland and other agencies to prevent and minimise the impact of antisocial behaviour within the legal powers available."