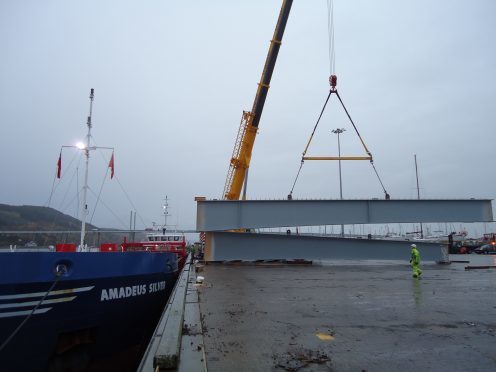 Nearly 50 giant steel beams have been transported across Inverness for the city's new congestion-busting West Link road.
The 48 beams will be used to construct the new road bridge across the River Ness which will eventually link the A82 Inverness-Fort William road and Dores Road.
Traffic delays were kept to a minimum throughout the delivery period by avoiding rush hour times over the last two weeks.
All of the beams arrived at the port of Inverness from Ghent in Belgium on the MV Amadeus Silver through shipping and transport group Scotlog Sales.
The company then transported the beams from the port to the bridge site at Torvean.
Scotlog chairman Sandy Catto said: "Delivering large loads such as these to Inverness is only possible due to the foresight of the port in including a heavy lift platform when they expanded their facilities back in 2007.
"The platform can support cranes up to 1,500 metric tons which enables Highland businesses to receive large and heavy project cargo such as wind turbines and construction equipment by the most direct route.
"This has minimised congestion on the main A9 and A96 trunk roads and will be particularly important when future construction projects begin along these routes."
Port of Inverness chief executive Sinclair Browne said: "We are delighted to be assisting with this project.
"Bringing the cargo in by sea helps reduce the project's carbon footprint and goes a little way to reaching the government's stated aim of reducing haulage road miles.
"This cargo also demonstrates how the port can assist with large infrastructure projects. With the proposals to upgrade the Longman interchange and build the East Link road announced as part of the City Region Deal, the port is well placed to assist these exciting new developments."
The new bridge over the River Ness is a composite bridge with steel beams and a reinforced concrete deck and parapets.
Fabrication of the beams is now taking place on site and the beams will be paired up.
This work is due to finish in February when a large crane will then be used to lift the bridge beams into place on the new abutments and bridge piers.
Work will then start on the construction of the reinforced concrete works.
A Highland Council spokeswoman said that the work is "progressing well" and that the bridge construction is on schedule.