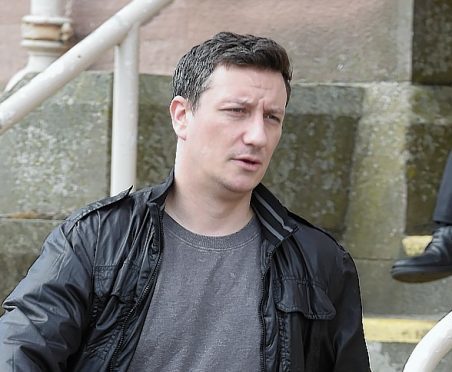 A "violent serial domestic abuser" who showed no remorse for his victims, two of whom were pregnant at the time, was jailed for 20 months yesterday.
Rory MacMillan's attack on three former partners was described by Sheriff Eilidh Macdonald as "nasty, cowardly and bullying" as she ordered that he be supervised for nine months after his release from prison.
In an outburst from the dock, MacMillan then shouted at her: "I am going to appeal. Do you think I am going to stand here and take this from you?"
"My life is ruined by you lot"… Man shouts abuse at jury after they convict him on domestic abuse charges
It was his third outburst – twice his temper had flared in the dock during his trial last month – once to shout at a witness and accuse her of lying. The second was directed at the jury who convicted him, claiming all his victims had lied and that the jury had "ruined my life".
MacMillan, of Balloan Road, Inverness, had to be forcibly removed from the dock of Inverness Sheriff Court for a second time by security officers after another foul-mouthed tirade of abuse.
Earlier, he was found guilty of assaulting Lindsay Court, Donna Carson and Hollie Cole between 2004 and 2013. A non-harassment order was imposed to protect Miss Cole from MacMillan for the next five years.
He had admitted failing to appear for a court hearing.
The court was told that the 36-year-old attacked two of his victims while they were pregnant.
Miss Court, 31, suffered a cut head and a split lip at his hands, leaving her permanently scarred.
He also threw a mobile phone at 30-year-old Ms Carson, striking her on the knee, then dragged her out of her sick bed by her hair.
His last victim, 26-year-old Hollie Cole, said she was punched until she was bruised at least two or three times a fortnight. He also tried to throttle her.
At one stage she was hospitalised, the trial heard.
All his victims said they were too frightened to leave him or tell the police.
His defence counsel Bill Adam conceded his client had "anger issues", adding he still maintained his innocence.
Sheriff Macdonald told MacMillan: "You have been convicted of three serious offences against three previous partners. They were nasty, cowardly, bullying and you have done it repeatedly.
"You have not shown any remorse for your foul behaviour."
Hollie's friend, 25-year-old company director Alicia Socas was the target of MacMillan's abuse from the dock during the first day. The trial was interrupted until he calmed down.
The jury took an hour to reach their conclusions after fiscal depute Michelle Molley told them: "He is a violent serial domestic abuser. If he is to be believed, he must have been really unlucky to have three former girlfriends who all lied about him beating them."