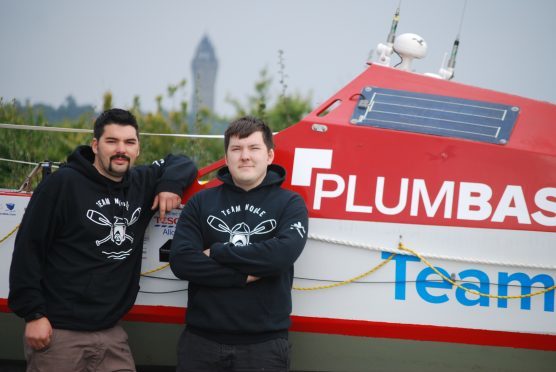 Two Scottish brothers are five days into "the world's toughest row" as they seek to paddle 3,000 miles across the Atlantic.
So far things have been tough for Kris, 31, and Blair Elliot, 28, as heavy seas, winds and currents sent the vessels of the Talisker Atlantic Challenge off course.
But as Team Noble, they remain determined to continue in memory of fireman John Noble, a friend and colleague who died on his way to a call out.
The brothers expect it will take anything from 60 to 70 days to row the Pendovey Swift, 23-foot Pure Class vessel across the ocean to raise funds for the Firefighter's Charity.
After initially hitting upon the idea on a night out to the pub, the Elliot brothers trained up and down the west coast of Scotland in preparation.
The Isle of Bute, the Minch, and off the coast of Oban proved ideal for developing their skills to deal with the choppy waters of the Atlantic Ocean.
Speaking before their departure Blair said: "The epic Talisker Whisky Atlantic Challenge, the world's toughest row, was too big an opportunity to pass up."
"A few months later, and after a lot of research, Kris had bought a boat and the planning was well under way.
"Most people think we are mad, when we explain the challenge to them they only think we are madder. Everyone has been so supportive though."
Kris said: "At one point we will be 1,500 miles from land in front of us and 1,500 miles from land behind so that feeling can be it overwhelming."
He said that he feels well prepared: "Me being a firefighter, you have to deal with crises, you have to keep your cool – that is a massive help."
Kris added: "We need to get a good minimum of hours each day and night but if we break down mentally or we can't control our emotions that will impact on that."
Blair works off-shore as an engineer and though an oil platform in the North Sea is sturdier than a rowing boat he is accustomed to being far from land.
Now if the Elliot brothers can make it safely across the Atlantic they will join a select group of less than 500 people to have rowed across an ocean.
There are a total of 28 vessels in the race that are made up of rowers travelling solo, in pairs and in fours.
The race has always had strong Scottish connections as its founder and pioneering Atlantic rower Sir Chay Blyth came from Hawick.
And having talked to Sir Chay before the race, Kris said: "He was really happy to see a Scottish team involved."
Sir Chay won renown in 1966 by rowing across the Atlantic in a 20 foot open dory called the English Rose III in just 92 days with Captain John Ridgway.