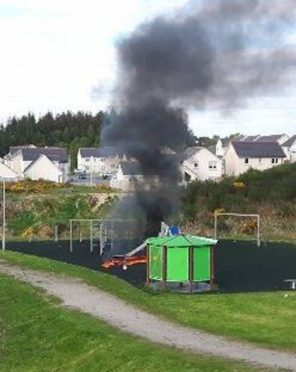 A playpark fire in Inverness could have spread into gorse backing onto homes, police have said.
Firefighters from the city were sent to the blaze beside Milton of Leys Primary School following the 999 call at about 6.45pm on Monday evening.
A fire service spokeswoman said no one was hurt and that firefighters used a hose reel jet to extinguish the flames within nine minutes – before it could spread to a nearby area of gorse.
Inspector Murdo MacLeod said: "Fire-raising is inherently dangerous as you have no control over how it may develop.
"This particular fire had the potential to spread into gorse backing onto neighbouring houses and it is only though the quick action of our partners in at Scottish Fire and Rescue that it didn't.
"I would also like to thank the members of the public who highlighted this incident to the emergency services."
A police spokesman said a quantity of wood chips were found to be alight at the park, which is maintained by Highland Council, and an area of rubber base matting was also damaged.
The spokesman said that a 14-year-old girl will be reported to the Children's Reporter in connection with the fire.
A Highland Council spokeswoman said: "The play equipment isn't damaged, although tainted with soot due to the fire on the rubber base matting. We will repair the surfacing in due course and clean the equipment."
Photographs of the fire were posted on the Milton of Leys Residents Facebook page on Monday evening.
One resident, Nicola Munro, described it as a "very sad sight" and said a toddler group based in Milton of Leys were planning an afternoon at the park. She added: "Now we will have to cancel entirely, as other parks are too far for little ones on foot."
Inverness South councillor Ken Gowans said: "The play park was refurbished by Highland Council only a few years ago at the cost of £50,000 but what it does underline is the very real need for more community facilities in the Milton of Leys area. The kids have got nothing to do, the houses have been built but there's no infrastructure."
Fellow ward councillor Duncan Macpherson said: "We had a fire last week at a disused farmhouse as well."
Two fire appliances went to the derelict building at Lower Myrtlefield Farm after the 999 call was received at about 8pm last Wednesday.