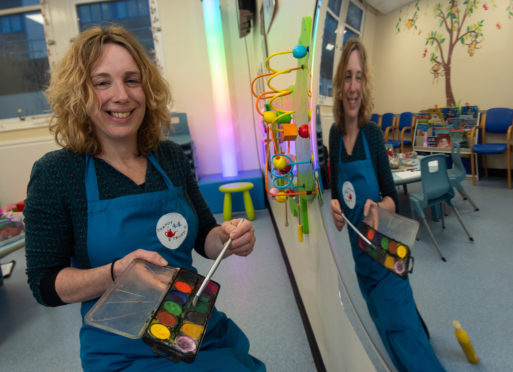 A charity that helps youngsters cope in hospital will mark its 10th anniversary this year – and has revealed plans to expand to help those living in more rural locations.
The Teapot Trust uses art therapy to help children relax in the often stressful hospital environment, perhaps getting them to express their feelings about their diagnosis or the effects of missing school and their friends.
Art can also prove a handy distraction for those anxious about their treatment, or even an injection.
The charity has been helping youngsters at Raigmore Hospital in Inverness for five years, and also works out of the Royal Aberdeen Children's Hospital.
Nicola Kennell, the charity's resident art therapist in Inverness, currently offers one-to-one art psychotherapy work twice a week and open group art therapy sessions once a month which young patients, their siblings and parents take part in.
She believes the uptake in the open sessions at Inverness is far higher than other hospitals due to how far some families have to travel.
Miss Kennel already takes the art therapy services to young patients at their school if travelling to hospital for a session is too difficult, and plans to expand that service this year.
She said: "By seeing a number of children within their school settings, we've enabled them to benefit when they otherwise may not have been had access to our art therapy services.
"We are hoping to broaden that out as much as we can and try and look at how we can access more people who are in remote locations and bring out therapy to them."
"We've got a really strong vision for the future of exciting things and working with communities ahead."
Mum Mhairi Magee drives for more than three hours to take daughter Anna, who has juvenile arthritis, to the art therapy sessions before her check-ups at Raigmore.
She said: "It's great to have the Nicola from the Teapot Trust here to relax her before her appointment.
"It's definitely benefited Anna, it's just really positive for kids and parents."
Another patient, who has a long-term condition, said being able to draw had helped remind them of the journey they'd already overcome.
"When working on the positivity picture, it reminded me how awful I had felt in the past but that it's over now and I have a brighter future ahead of me.
"The positivity picture brightens up my day when I might be feeling a bit down.  I chose to use purple in the picture as it is the colour of my illness's logo."
THE BACKGROUND
The Teapot Trust was set up in 2010 by two parents who noticed a gap in care for children with chronic conditions.
Laura and John Young took regular trips to hospital with their daughter Verity, who spent much of her short life coping with lupus and then cancer.
Art gave Verity a way of expressing herself and became a coping mechanism for the whole family.
The first art therapy service launched in 2011 at the Royal Hospital for Children and Young People in Edinburgh and due to increased demand has continued to grow year on year.
Since its launch, 17,000 children and families have utilised the art therapy services, with 92% saying it helped them feel more positive.
From January to December 2019, there were 80 open group meetings held at Raigmore hospital in which 46 parents and carers joined in, totalling 96 hours of open group art therapy.
The Teapot Trust's Inverness-based therapist also provided a total of 72 sessions for seven children and young people who were referred by clinicians.
In total, since launching in Inverness in 2014, the Teapot Trust has provided almost 900 art therapy sessions for young patients and their families.
At the Royal Aberdeen Children's Hospital, there were 339 art therapy open sessions held last year which 23 family members or guardians also took part in.
In the coming year, the charity hopes to expand by adding more trustees to help with fundraising, research and regulation.