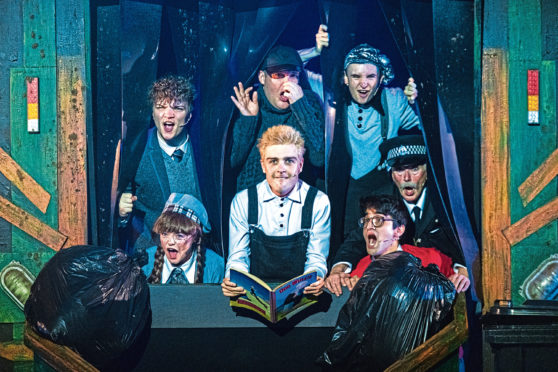 Scotland's favourite son, Oor Wullie, has jumped out of the pages of The Sunday Post and plonked his tackety boots on to the stage at Eden Court this week to star in a brand-new musical comedy, suitable for all the family.
It's a bit of a gamble giving life to a fictional, much-loved and – amazingly – 80-year-old character, but it's gamble which has paid off handsomely in this case.
Created by Dundee Rep Ensemble and Selladoor Productions in association with Noisemaker the show contains a good mix of pantomime-type fun, laugh-out-loud scenes, catchy musical numbers and moments that will tug at your heart strings.
Like all good stories, it starts with a blank page, but on this page, drawings of our cartoon hero magically start to appear.
The story doesn't then immediately begin with 10-year-old, dungaree-wearing Wullie from Auchenshoogle, but young Wahid, (played by Eklovey Kashyap) who has lived in Scotland all his life and has Pakistani parents.
Switching easily from rock numbers to songs that will move you, it's a fast paced show, delivered in a strong Dundee accent by a hugely talented cast.
And the biggest star of all is Martin Quinn, who plays wee spiky-haired Wullie, a lad who flips between being a wee tearaway to a tearful wee boy with lightning speed.
His expressions and mannerisms will make you feel like Wullie really has been brought to life.
While there's lots of gags for the kids, there's plenty of fun to keep the adults amused too.
A feel-good show from start to finish, this musical adventure is the perfect antidote to the mid-winter blues.
Oor Wullie the Musical is at Eden Court until Saturday and at His Majesty's Theatre, Aberdeen, from March 3 until March 7.