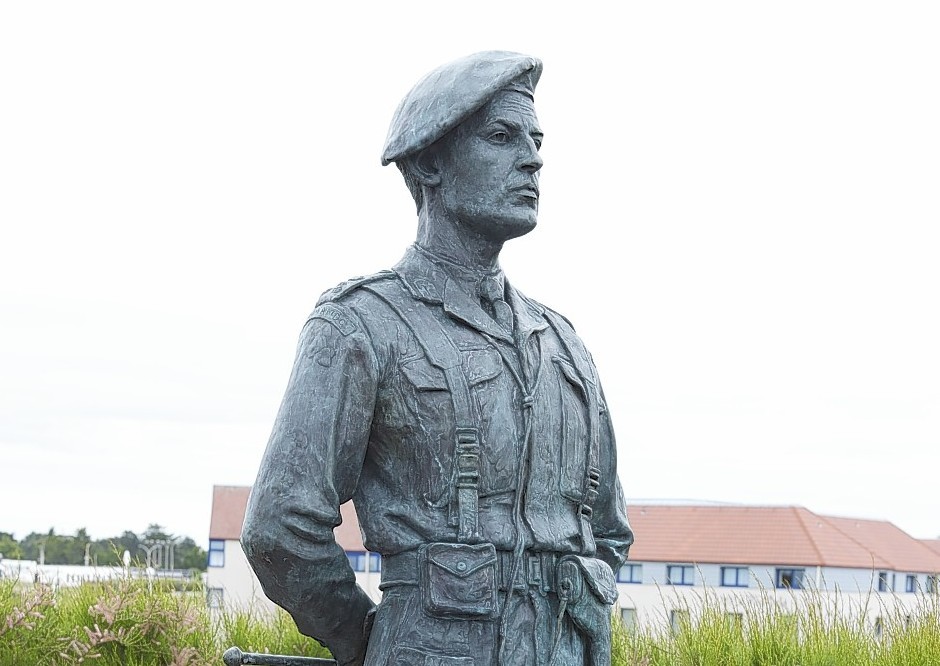 A Highland clan chief was witnessed standing "completely at ease" on the dunes of a bloody Normandy beach seven decades ago, as bagpipes played and machine-gun fire whistled past.
Lord Lovat seemed to be "taking in the scene around him", according to a 1995 obituary, "almost contemptuous" of the worst efforts of the lethal German defences.
A long way from his Beauly home, he then proceeded to march the members of his commando unit who had not already been maimed through the middle of a minefield, towards Pegasus Bridge, which they held heroically.
The leadership of Brigadier Simon Fraser, chief of the Clan Fraser of Lovat, has already been immortalised in the 1962 Hollywood blockbuster, The Longest Day.
Now the famous commander can also be found once again standing "at ease" on the same dunes of Sword Beach, where he and his men landed on June 6, 1944.
A statue of Lord Lovat, made by renowned artist Ian Rank-Broadley and funded with £100,000 from the chief's family, was unveiled at a ceremony at the site last month, in front of more than 100 members of the Fraser clan, and British and French dignitaries.
The bronze of the brigadier will be "taking in the scene" at the beach again on Friday as the Queen, US President Barack Obama and other heads of state attend commemorations to mark the 70th anniversary of D-Day.
Born at the family's traditional residence of Beaufort Castle near Beauly in 1911, Simon Fraser was commissioned as a second lieutenant in the Lovat Scouts, a Territorial Army unit, in 1930.
He transferred to the Scots Guards the following year, before succeeding his father to become the 15th Lord Lovat (although referred to as the 17th) and 25th chief of the Clan Fraser.
Upon the outbreak of war he volunteered to join one of the new commando units being formed by the British Army, and in 1942 was awarded the Military Cross for commanding a raid on the French village of Hardelot.
His plan for the capture of a battery of guns in the otherwise disastrous Dieppe Raid in the same year was described as "masterly" and "brilliantly successful".
During the D-Day assault, Lord Lovat famously defied regulations by instructing his personal piper, Bill Millin, to pipe the commandos ashore.
Asked by Mr Millin at the time about the rules, he reportedly replied: "Ah, but that's the English War Office. You and I are both Scottish, and that doesn't apply."