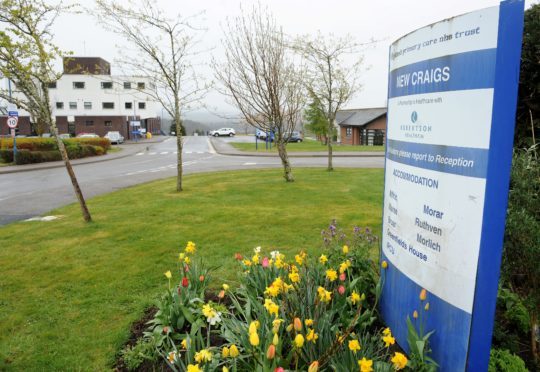 A ward at New Craigs Hospital in Inverness has been placed into lockdown after a member of staff tested positive with Covid-19.
The health worker is understood to have been working within the Ruthven Ward of the mental health facility before contracting the deadly virus.
NHS Highland officials carried out a swift investigation into the use of adequate PPE and clinical risk assessments at the hospital on Leachkin Road before implementing a number of measures to prevent an outbreak.
A small number of people confirmed as close contacts have now been requested to isolate as a precaution.
An NHS spokesman said: "A member of staff employed and working in Ruthven Ward at New Craigs Hospital in Inverness recently tested positive for COVID-19.
"We immediately investigated and initiated standard procedures for monitoring and managing the incident to ensure the safety of patients and staff.
"This has included review and confirmation of appropriate use of PPE and clinical risk assessments of those who have been identified as close contacts of the affected staff member and as a result, a small number of people are self-isolating as a precaution."
Highland MSP Edward Mountain said it was a real concern, particularly in terms of staff shortages which have in the past been a prominent issue for the city hospital.
He said: "I am deeply concerned that the special needs of the people at New Craigs may be affected by this pandemic and I would urge NHS Highland to do all they can to look after the most vulnerable people at New Craigs."
NHS Highland officials have also restricted visiting of patients identified as close contacts to the individual.
He added: "We have also taken the decision to temporarily restrict visiting to those patients who have been identified as close contacts however essential visiting will still be available.
"Usual infection control precautions will continue across the hospital and all patients, visitors and staff who come into the hospital should wear face masks and clean their hands regularly with soap and water or alcohol gel."
Depute provost of Inverness councillor Bet McAllister said: "It is difficult because it is going to happen.
"I would assume that staff would be getting tested all the time so that is very worrying.
"I would like to be made sure that everyone, all the staff, are being tested in the hospital and if they are receiving any new patients coming in, they must be tested too.
"This pandemic, because it's quite a silent one, it can attack anybody so we all have to be very aware of it and staff really have to be aware for their sake and the sake of their families."
Local councillor Alex Graham said it was a concern but placed his faith firmly behind NHS Highland's ability in managing the situation.
He said: "I am very sorry to hear this has happened.
"It's particularly worrying when it happens within a hospital where there is a significant number of resident patients but I certainly have every confidence NHS Highland will manage that difficult situation very well.
"This acts as a timely reminder to us all to continue to exercise all the precautions advised against Covid-19."
Meanwhile, Highland Councillors took part in an online seminar with NHS Highland on the response to the coronavirus pandemic in the Highlands.
Dr Tim Allison, Director of Public Health and Policy at NHS Highland gave a presentation on Covid-19 testing, focussing on the Test and Protect Programme.
Councillor Linda Munro, Chair of the Council's Health, Social Care and Wellbeing Committee thanked Dr Allison and said: "As locally elected Members we are all on the frontline in our localities and welcome this opportunity to learn more about the work of Public Health which often goes on behind the scenes."
Highland Council Leader Margaret Davidson added: "Providing support and assurance is a vital role of councillors at a local level and the more we are informed, the better we can respond to any questions raised among our areas by signposting people as quickly as possible to the right sources of information and where to seek help. The seminar today has been extremely helpful and informative."