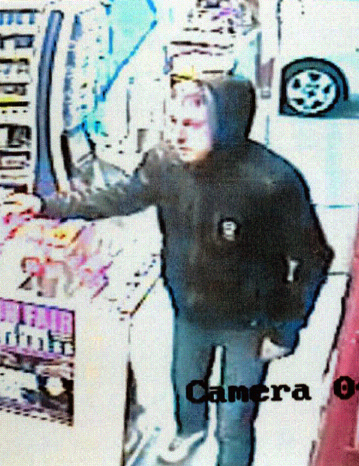 This is the knifeman police are hunting after a botched armed robbery in the Highland capital.
These newly-released CCTV images show the terrifying moments when the would-be robber presented a weapon at staff in a busy city-centre off-license.
The hooded man threatened a shopkeeper with a knife – but he and a colleague remained calm and stood their ground until he fled empty-handed.
Now police are asking the public to help identify him.
In one of the three images released by officers yesterday, his hood slips partially off his head, giving a clear picture of the raider.
The shocking incident at Barney's Newsagent in Castle Street in Inverness happened at 8.20pm on Saturday, August 16.
The culprit brandished a knife and demanded that owner Imran Rafique hand over money from the till.
In another of the images, the hooded man appears to be gesturing to someone out of the picture, although it is unclear whether he is holding a weapon.
The front counter and entrance are also visible, and small goods, the cigarette gantry and a stand of lottery scratchcards can be seen on the public serving area.
The shop is in a busy part of the city centre, with popular pubs and bars nearby.
Mr Rafique could not be reached for comment last night.
But after the incident, he told the Press and Journal that he was threatened with a three-inch blade as the would-be robber threw a bag at him to fill up.
He said: "He tried to stab me three times over the counter.
"He stared right into my face. I was in complete shock, but I just tried to speak to him calmly."
Mr Rafique, who has run the shop for more than six years, said his colleague, who had been working in a back room, came to help when he heard shouting.
"He rushed out the shop to call for help, and the man went after him," he said.
"But the man kept on coming back. The whole ordeal lasted just two minutes – but it was a very long two minutes.
"Eventually, he just ran off."
Police said their inquiries were continuing and issued a description of the man.
He aged between 20-30, 5ft 10in and of slim build.
He has short ginger or light brown hair.
He was wearing a black hooded jacket with a white logo on the left chest area, blue denims and white trainers.
Anyone who recognises the man should contact police on 101.