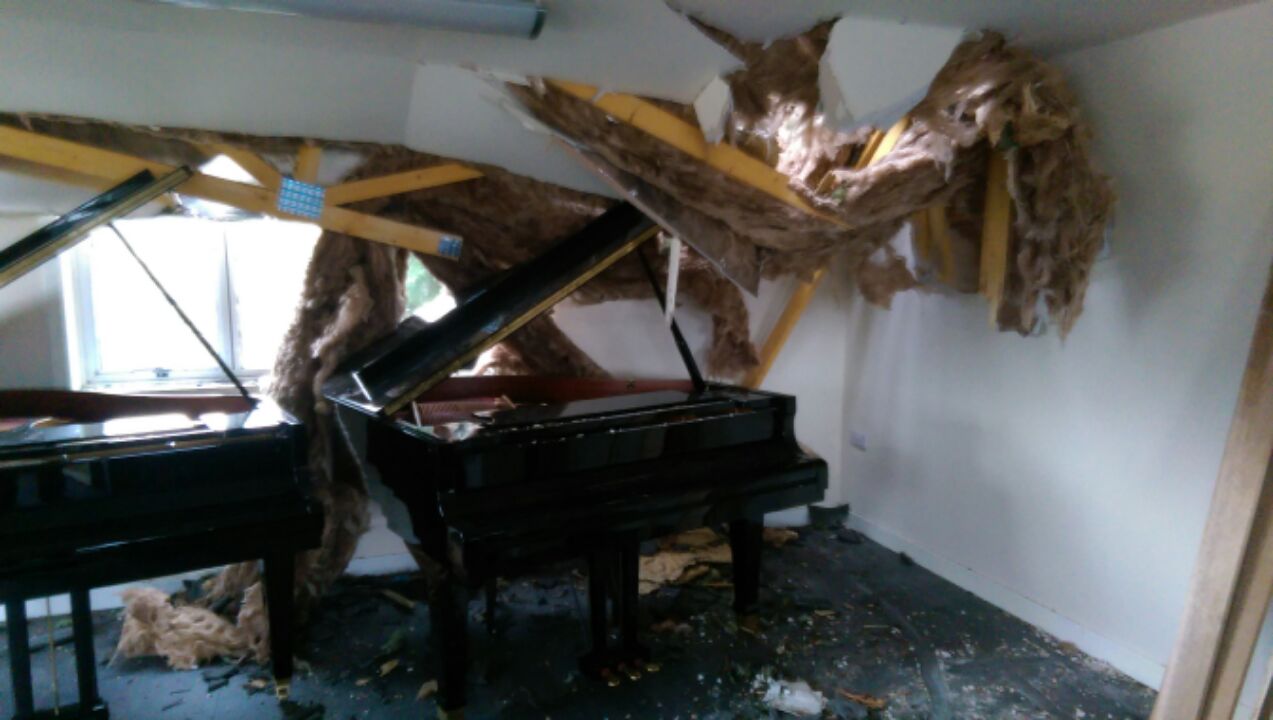 An Inverness business was left counting the cost of the storms, after a tree smashed through the roof of a showroom almost landing on a £10,000 piano.
Loch Ness Pianos were forced to put all of their stock into storage yesterday after high winds blew the tree onto their Dochgarroch premises.
The tree stopped just short of taking out a £10,000 baby grand piano which was recovered with only a few scratches.
However, all 12 of the pianos in the showroom of the Inverness business had to be moved because of concern about leaking from the roof.
Their showroom was also left without electricity for most of the day.
Business owners Vernon Kennard and wife Fiona now face a major clean-up operation to get the business back up and running due to the damage caused to the roof.
Damage was also caused to the Premier Inn in Millburn Road, where gusts tore a section from the gable end wall of one of the buildings at the hotel.
Firefighters evacuated guests from the rooms near the damaged area. Nobody was injured in the incident.
A spokeswoman for the Premier Inn said: "We can confirm that due to the recent high winds, part of one of the walls of our hotel on Millburn Road was damaged.
"No one was hurt and the emergency services were called immediately to the scene to help secure the building.
"Apart from a small number of rooms, the hotel is open as usual."
A load of masonry also fell off a two storey building in Inverness city centre yesterday as a result of the storm.
The stones came from the building above The Room bar and restaurant in the city's Church Street.
A store manager from the Co-op shop directly opposite the building said that the masonry was lying there when he got in to work at 5am.
Highland Council closed the area off and a structural engineer was put on site to assess the damage and any further risk.
They said that any loose masonry would be secured as necessary.
The gales also ripped a roof from The Waterfront Fishouse in Oban's Railway Pier overnight.
The restaurant's joint owner Calum MacLachlainn said: "I was in Glasgow on business. The police phoned me at 3.30am to say what had happened. They closed off the pier. We got the debris cleared away and the lads are on site making it wind and water tight just now.
"As an ex-fisherman, I would say the wind must have been pretty extreme to do that damage. It is definitely the worst storm we have seen in quite a few years.
"The restaurant will operate as usual."