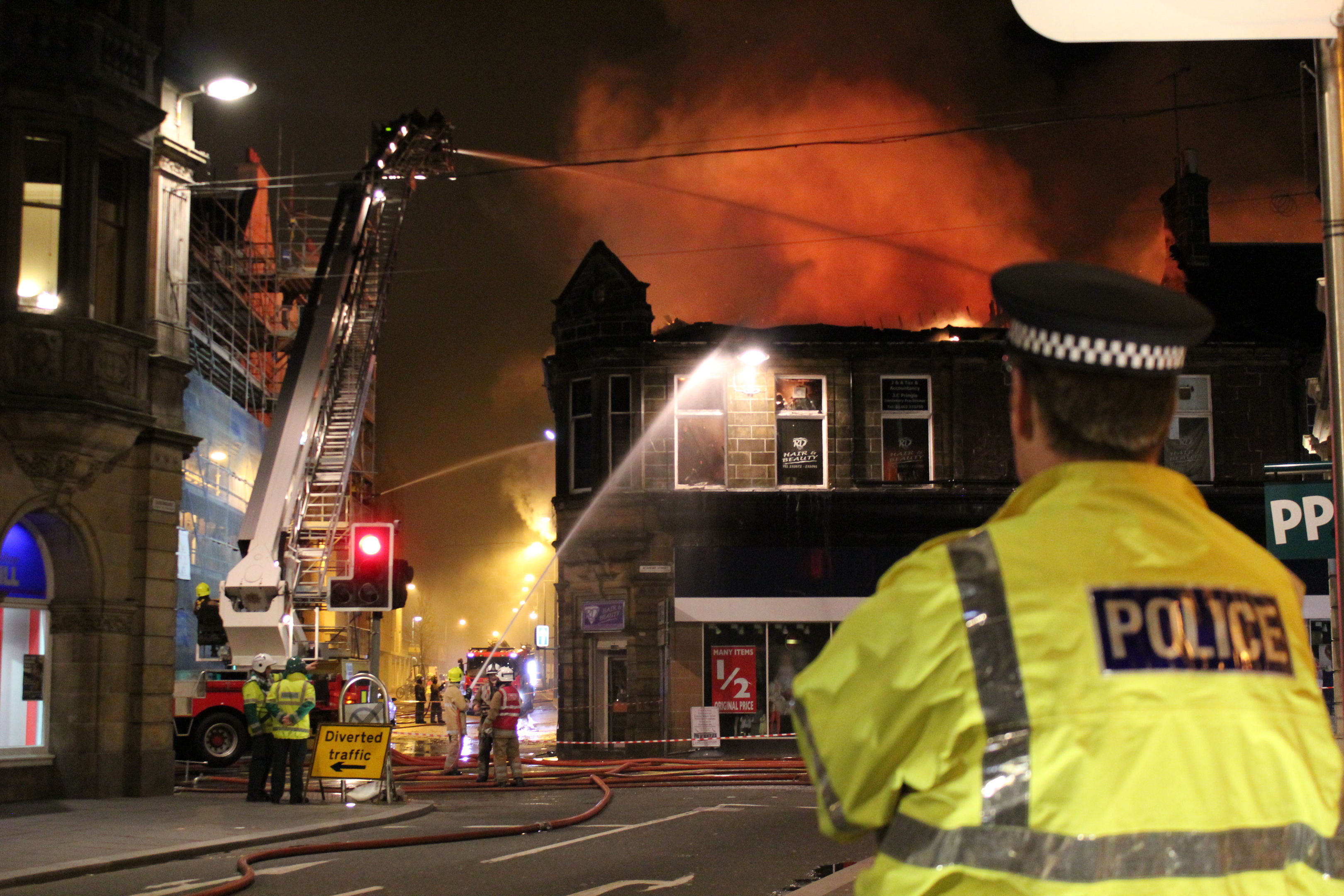 Much of Inverness city centre remains cordoned off this morning as emergency services tackle the aftermath of one of the biggest fires in the city in recent years.
Traffic including bus services are disrupted because of streets being closed.
Fire crews were called to the blaze just after 10pm on Wednesday evening – and remain at the scene this morning, although the fire has now been brought under control.
The raging inferno engulfed the building housing the M&Co clothing store on the ground floor and a hair salon and beauticians above, on the corner between Academy Street and Strothers Lane.
A large cloud of smoke could be seen for miles around the city last night as crowds gathered.
Two pumps from Inverness, one from Dingwall, one from Fortrose and fifth from Nairn were sent to the scene, supported by high-reach platforms from Inverness and Aberdeen, which also had a supporting pump.
At the height of the fire crews were using six main jets, two hose reel jets and the aerial rescue platforms were being used as water towers to attack the fire from above.
A water relay from the River Ness was also set up, while crews ensured all nearby buildings were evacuated.
Firefighters in breathing apparatus also entered the Sports Direct and the Exchange pub buildings with thermal imaging cameras to assess whether there was any damage to the adjoining buildings.
The overnight crews have this morning been relieved by a day shift, with three appliances from Inverness at the scene, along with Inverness's aerial platform.
Group manager Dave Leishman, who has been at the scene all night, said: "The fire was well-developed when we arrived.
"We have successfully managed to contain it to the immediate property and stopped it spreading to the surrounding premises.
"Fire crews did an excellent job and operated in very arduous conditions to gain control of the incident. We worked closely in partnership with Police Scotland, Scottish Ambulance Service, Scottish and Southern Energy and Scottish Water, who all provided crucial assistance at the incident ground.
"I would also like to thank the staff at Wetherspoons public house and the Pentahotel for very kindly providing refreshments for the crews during the incident."
He added: "An investigation into the cause will be carried out along with our partners at Police Scotland when the premises has been deemed safe to enter."
Nobody is thought to have been injured in the incident.
A police spokesman confirmed that Academy Street and an area of Queensgate and Strothers Lane remain cordoned off to the public while firefighters remain at the scene.