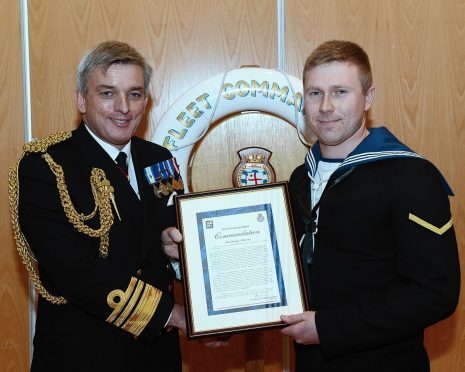 A Royal Navy sailor from Inverness has spoken of his pride after being recognised for helping to rescue a colleague who fell overboard.
Able Seaman Jonathan Murray was presented with a Commendation for his "outstanding efforts".
The 25-year-old former Millburn Academy pupil was working as coxswain in rough sea conditions in the Mediterranean in 2012 when a fellow sailor was thrown overboard from HMS Montrose's seaboat during a routine boat transfer.
He quickly circled and rescued his colleague before navigating the waves to get back to the ship.
AB Murray's efforts were recognised by Fleet Commander Vice Admiral Sir Philip Jones at a ceremony at Her Majesty's Naval Base Portsmouth.
Speaking afterwards, the sailor said: "Receiving this award was not only a personal high for me but also a credit to all the personnel that were involved in what had happened on that evening.
"I am very proud to have been awarded this and I hope it inspires the younger generation to one day serve within Britain's Armed Forces."
AB Murray now works on the frigate HMS Portland as a seaman specialist.
"I've now worked on two ships in the Royal Navy, Montrose and Portland and that means I've been on a number of deployments and seen a lot of places," he said.
"Every journey is unique with a variety of places and cultures to explore and each deployment has its own highs and lows, but it is a great career."
Vice Admiral Jones said: "The Royal Navy's renowned and widely regarded effectiveness is all down to the men and women who serve both in the United Kingdom, our home waters and deployed around the world on a daily basis.
"These awards are recognition of those people who have gone above and beyond in the role they play.
"With this award I am also recognising the families and friends who provide superb and unwavering support, and I am delighted that so many of them were able to join me in celebration of the achievements of their loved ones."