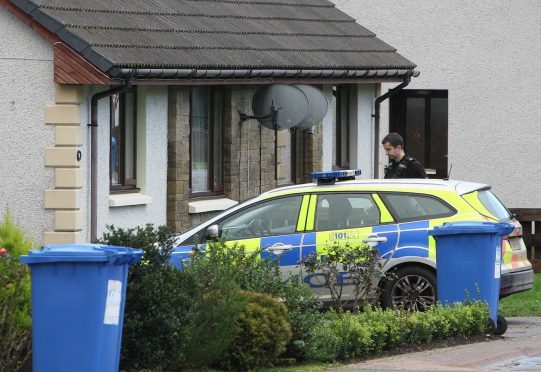 A man is expected to appear in court today after a family were robbed at gunpoint at a house in the Highlands.
He was arrested by police probing a raid at the home of businessman Kenan Cetiner and his wife Lisa Ann in Drumnadrochit.
The man was detained in Cumbria but it is believed he was being quizzed by officers in Inverness last night and is due to appear at the city's sheriff court today.
Last night, people in the Loch Ness-side communities were Mr Cetiner lives and works were still in a state of shock.
And the north's most senior police officer tried to reassure locals by stressing the robbery was not "random".
A man carrying what appeared to be a firearm burst into the Cetiners' home on Sunday night and demanded money.
He fled with a four-figure sum.
No one was injured in the incident.
Chief Superintendent Julian Innes said yesterday: "It's already been widely reported that there was an armed robbery in Drumnadrochit.
"In this case it was a single male, a report will go in later on Tuesday and he will appear in court tomorrow.
"It's fair to say to provide assurance to the people of Drumnadrochit and the Highlands and islands this was not a random attack.
"There was a degree of knowledge involved.
"I'm not aware that we have recovered what is thought to be the firearm but I can say that we have recovered some cash."
Last night, locals in the Loch Ness-side village were still in shock at such a dramatic incident on their doorstep.
But the local police chief was quick to reassure residents that they were not in any danger.
Mr Cetiner is a well known businessman who owns The Moorings restaurant and Canalside Chip Shop in Fort Augustus, about 19 miles from Drumnadrochit, and previously owned the Drum Takeaway in his home village.
Yesterday Anthony Taylor, 36, who manages The Clansman Centre in Fort Augustus, opposite The Moorings, said: "It is a shock this has happened and you don't expect things like that to happen, especially somewhere like Drumnadrochit.
"It is very unsettling. We hope they are all ok."
Fiona Bentley, a neighbour of the Cetiners, said: "People are shocked because it has happened in Drumnadrochit.
"It's usually very quiet here and everyone knows everyone. It happened two doors down from me and you don't expect that kind of thing to happen here.
"There used to be a police house in Drumnadrochit but that closed down. Obviously we do feel a little bit isolated here.
"Mr Cetiner was here when I first came here 12 years ago and we have lived here ever since."
Another neighbour, who did not want to be named, was too scared to open her door last night because of what had happened, and said she was "still trying to come to terms with it".
Shortly after Sunday night's incident, armed police were swarming around the Cetiners' property in Coiltie Crescent and residents were ordered to stay indoors.
Police later detained a man in Cumbria, nearly 300 miles away and appealed to anyone who saw a silver Volkswagen Passat in the area to get in touch.
Mr Innes said: "There have been in the Highlands this year 14 robberies and that includes street robberies so that could be someone having their phone taken off them.
"There's been a number of high profile incidents such as this one, the one at the Co-op in Cradlehall and one at a filling station in Wick.
"That's it in terms of major violent robberies so they are few and far between."