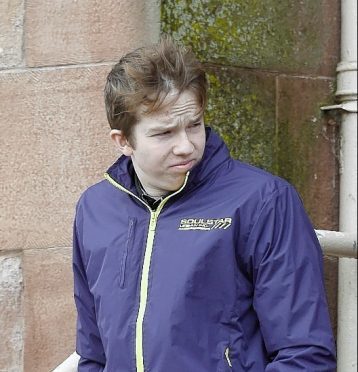 A sea cadet officer has admitted grooming a 12-year-old girl with the intention of having sex with her.
Lewis Hall arranged for the girl, who cannot be named for legal reasons, to travel from her home 150 miles away to Inverness and visit him.
But when she failed to turn up at school, her parents called to find out where she was – and discovered she was on the train north, where she claimed she was going to visit a friend in hospital.
Police were alerted, and she was picked up at Inverness Railway Station.
Yesterday, Hall admitted making arrangements – while knowing the girl was underage – for her to travel to his home with the intention of engaging in unlawful sexual activity with her, or in her presence, on May 29 last year.
Inverness Sheriff Court heard Hall was 17 at the time of the offence.
Fiscal depute Stewart Maciver said the first offender had been a member of the Inverness Sea Cadets for about eight years at the time, and had reached the rank of petty officer – the most senior position a youth can hold.
He told the court Hall, of 23 Rosehaugh Road, Inverness, and the girl had exchanged messages via social media.
But in January last year, the girl and her brother swapped phones.
Her brother then spotted messages from Hall to his sister, some of which referred to her as "baby".
Mr Maciver said a subsequent investigation found a number of text messages exchanged on May 21 last year referring to "cuddling".
Another from Hall urged the youngster to "pull a sickie" from school to come and visit him.
The court heard there was a further exchange of messages arranging her to visit on May 29.
Mr MacIver said: "They were somewhat coy as to what exactly was planned.
"There certainly seems to be some kind of veiled reference to sexual activity."
On May 29, the girl set off for school at the normal time but instead boarded a train to travel to Inverness.
Her absence from school was noted and the head teacher phoned her parents who in turn tried to contact her.
She answered the phone to her father and told him she was going to Inverness.
Mr MacIver said: "Police intercepted her at the station in Inverness and returned her to her parents."
When questioned she initially told police she was going to visit a friend in hospital.
However, she later admitted she was going to visit Hall.
Mr MacIver said it had been noted she seemed "uncomfortable" talking about sex and indicated she had hoped they were just going to talk.
Hall was interviewed some time later and also initially denied any relationship before admitting later he knew the girl, admitting he was "being stupid and immature".
Defence solicitor Shahid Latif deferred his mitigation until Hall returns to court for sentence. The case will call again next month.