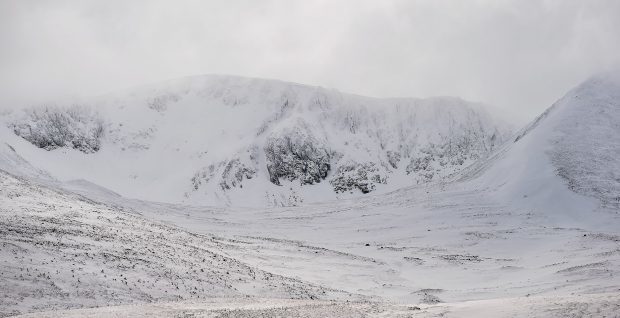 The number of avalanches in the Scottish Highlands fell by more than a quarter this winter – but there were still five deaths linked to the killer snow slides.
Despite a late flurry of snow – and a winter of fatalities – the vital service that provides climbers and hill walkers with the avalanche risk on Scotland's mountains ended this season's daily forecasts on Sunday.
The Scottish Avalanche Information Service (SAIS) said weekend only reporting will continue for the next two weekends just in Lochaber and Northern Cairngorms.
It also warned of the continuing danger of cornices – unsupported overhanging snow structures.
SAIS assesses avalanche hazard in six areas – Lochaber, Glencoe, Creag Meagaidh, Southern Cairngorms , Northern Cairngorms and Torridon.
This season, the organisation's team of forecasters recorded 61 fewer avalanches than last winter – 176 compared to 237.
However, an avalanche has been suspected as causing the deaths of five of the six climbers to have died on Scotland's mountains so far this year.
Lochaber Mountain Rescue Team believe Rachel Slater, 24, and Tim Newton, 27, from Bradford, were caught by an avalanche before starting a climb on the North Face of Ben Nevis around Valentine's Day.
In the same month, Adrian David Bankart – known as Dave – from Matlock, Derbyshire, died on 3710-feet high Creag Meagaidh.
The other climber with him survived but suffered serious injuries.
In January two climbers – including a rescue team member – died climbing in Glen Coe.
Joe Smith, 23, who lived in Kinlochleven in Lochaber, perished with experienced mountain skills instructor Simon Davidson, 34, who lived in Fort William.
Mark Diggins, co-ordinator of SAIS, which has a team of 17 experienced recorders, said:"The fatalities that happened were when the winter was coldest, and that's when there's more instability.
"Some 90 percent of avalanches in which people are involved in are triggered by people."
The service is funded by SportsScotland at a cost of £170,000-a-year. The SAIS webpage blogs have had more than 543,000 views in just four months this winter.